In our modern kitchen, a mixer grinder is probably the most important machine. It helps to reduce the workload and saves time so that we can manage our other tasks as well.
In recent times there are a variety of mixer grinders available which are designed for multiple tasks like pureeing, mixing, grinding, mincing to chopping and give a fine product without clear pieces.
But it's important to have the best mixer grinder at your home to work for you. To help you get the best mixer grinder we did a research and listed the best one below to choose from.
We can say when it comes to cooking it's not just an appliance it's more like a personal assistant to us. So in this article, we have listed the best mixer grinders in terms of durability, design, comfort and the price.
List of Best Mixer Grinders to buy in 2023
TechUnfolded is supported by its readers and when you buy through links on our site, we may earn an affiliate commission. read more
1. Bosch TrueMixx Pro 1000-Watt Mixer Grinder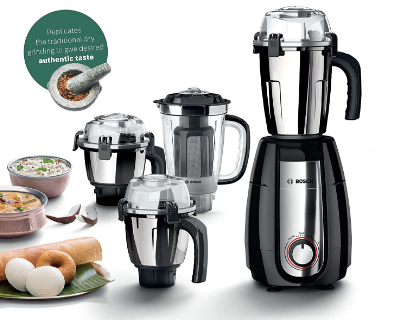 Key Features:
● Power: 1000 watts
● Voltage: 240 volts
● Weight: 5.2 Kg
● Color: Black
Bosch presents TrueMixx Pro mixer grinder with four jars. It has an aesthetically designed ABS body that provides durability and stability.
The 1000 watt powerful motor allows you to grind and blend tough food ingredients. The Bosch TrueMixx comes with an overload protector for safe operation.
It has sturdy handles for better grip and the unique lid lock for hands-free operation. It comes with 3 stainless steel jars and a blender jar that are equipped with fixed razor-sharp blades for different grinding applications.
Ergonomically designed polycarbonate transparent blender jar is unbreakable. With the transparent polycarbonate lid, you can monitor the grinding process until you get your preferred output.
The three-speed level allows you to choose different speed levels depending upon the application need. It has strong suction feet that help in keeping the appliance in place by preventing it from moving or sliding while in use.
2. Sujata Powermatic Plus 900-Watt Juicer Mixer Grinder
Key Features:
● Power: 900 watts
● Revolution: 22000 RPM
● Weight: 4999 Grams
● Color: White
Sujata Powermatic Plus Juicer Mixer Grinder, just like the name suggests this fabulous all-in-one device skillfully completes the function of all three. You can juice, mix, blend and grind fruits and vegetables in one highly efficient device.
This 900-watt powerful machine comes in different combinations. With the three jar combination, you have the option of dry grinding which is ideal for grinding all your spices, wet grinding is great for pouring purpose and of course essential in every Indian kitchen, a chutney grinding.
Apart from all of these it also has a juicer which pours out smooth juice from any fruit of your choice and for all of those health freaks, there's a blending option, which helps to make the shakes and smoothies to perfection & quickly.
All the jars come in stainless steel food grade polycarbonate making it safe and healthy. While the locking system ensures that there's no spillage.
3. Preethi Zodiac MG 218 Mixer Grinder, 750W, 5 Jars
Key Features:
● Power: 750 watts
● Voltage: 230V AC ~ 50Hz
● Weight: 9 Kg
● Color: Black/ Light grey
Preethi Zodiac MG 218 Mixer Grinder is a great device specially designed to perform a variety of mixing and grinding applications.
The Preethi Zodiac is powered by Vega W5 750 watt motor which can grind the toughest of ingredients in just a few minutes. It comes with 5 different jars.
It's one of the very few mixer grinders with which anyone can knead about 300gms of dough in about 60 seconds. With the 3-in-1 Insta-Fresh Juicer you can extract fresh juice faster.
The 2.1-liter Master Chef Jar also comes with a citrus attachment that is perfect for a refreshing glass of juice. The same jar also has attachments that let you grind, slice and grate vegetables in mere seconds.
And lastly, there is also a 0.5-liter jar ideal for making chutneys. In case of any trouble, you also have a 5-year warranty that you can bank on and an overload protector and keeps the motor safe during a power surge.
4. Philips HL7756/00 Mixer Grinder, 750W, 3 Jars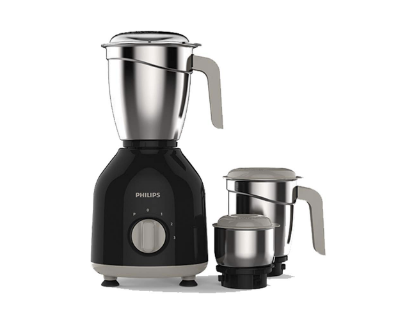 Key Features:
● Power: 750 watts
● Voltage: 230 volts
● Weight: 3 Kg
● Color: Black
Philips HL7756 Mixer grinder which is a superior, powerful and reliable machine with fine grinding and perfect mixing. The compact mixer grinder comes with a unique triangular shape and glossy black color which looks awesome in any kitchen slab.
It is designed in an amazing way that you can comfortably lift it with both the hands and can carry easily. The Philips HL7756 has sleek curves and fewer grooves which are easy to clean and maintain as well.
It is made up of a long-lasting plastic body and high-quality stainless steel jars. The HL7756 offers three jars- 1.5 liters Wet Jar, 1 liter of Multipurpose Jar and 0.3 liters of Chutney Jar.
The 750-watt powerful turbo motor grinds the tougher ingredients easily while it's advanced air ventilation system provides faster cooling of the appliance and enhances the life of the motor.
5. Borosil Fortuner Mixer Grinder, 1000 W, 4 Jars
Key Features:
● Power: 1000 watts
● Revolution: 22,000 RPM
● Weight: 5 Kg
● Color: Golden Brown
Borosil's Fortuner mixer grinder, a single device that offers multiple functionalities. When you have the fortuner mixer grinder in your kitchen, never bother about buying separate devices for preparing juices, and for mixing, grinding and blending purposes.
The all-in-one Borosil fortuner mixer grinder has the potential and functionalities to mix, grind, blend and produce juice seamlessly.
The mixer grinder is packed with a 1000 watts powerful motor and there is a built-in overload protector for safety of the motor. The fortuner mixer grinder comes with 4 different jars including 3 different stainless steel jars and 1 polycarbonate jar for various purposes.
Among all four jars, there is one 1.5L polycarbonate jar with fruit filter feature exclusively added to the device accessories for preparing healthy juices and smoothies.
You can effectively prepare stuff such as ginger garlic paste, coconut chutney, garam masala, turmeric, smoothies, soups and more in a quick time.
The Borosil Fortuner Mixer Grinder, 1000 W with 4 Jars come with a 2-year warranty. If you face any issues during the warranty period, you may easily contact the service team and request for doorstep service.
Overall, the Borosil Fortuner Mixer Grinder is one of the must-have kitchen devices for Indian kitchens to make blending, mixing, grinding, and juicing easier.
6. Philips Viva Collection HL7701/00 Mixer Grinder, 750W, 4 Jars
Key Features:
● Power: 750 watts
● Voltage: 230 volts
● Weight: 4.6 Kg
● Color: Elegant lavender/ White
Phillips is a reputed name in the field of the technology industry, and quality is never an issue when you buy Phillips's products.
This Viva Collection HL 7710 mixer grinder has a 750 watt motor of high durability that is capable of catering to heavy loads. The package has 4 jars such as wet jar, dry jar, chutney jar and the leakproof jar.
All the jars use the design of a safe locking mechanism which is needed while grinding the food. The stainless steel jars are of high quality and there is no leaking of the jars.
The Phillips HL is very compact that can be easily adjusted on your kitchen shelves and the jars are conveniently sized according to the requirements.
The mixer grinder ensures the vibration-free operation even while grinding heavy and hard food items. The product uses an ABS body with a speed setting for better performance.
7. Sujata Dynamix DX Mixer Grinder, 900W, 3 Jars
Key Features:
● Power: 900 watts
● Revolution: 22000 RPM
● Weight: 5.92 Kg
● Color: White
Sujata Dynamix DX, an extremely high-quality mixer grinder by a reputed brand Sujata which is known for its best home appliances at a reasonable price.
It's a compact machine that takes very little space in your kitchen and is great for mixing and tough grinding. The Sujata Dynamix offers many advanced features that helps to minimize your manual load.
It comes with the combination of 3 jars including a big jar with a dome-shaped lid for wet grinding, a small jar for making chutneys and one medium-sized jar for dry grinding.
The 900-watt powerful mixer grinder is powered by a heavy-duty motor which does it's work much faster and can run continuously for 90 minutes.
To ensure your safety this appliance has a shockproof body that is very safe for everyday use.
8. Preethi Blue Leaf Platinum MG 139 Mixer Grinder, 750W, 4 Jars
Key Features:
● Power: 750 watts
● Voltage: 230 volts
● Weight: 6 Kg
● Color: White/ Blue
The 8th product in our list of best mixer grinders is Preethi Blue Leaf Platinum Mixer Grinder. It is equipped with a 750-watt powerful motor and runs on 230 Volts which performs grinding, pureeing, grating, and juicing functions very quickly.
When it comes to build quality, the Preethi Blue Leaf is made of high-grade Neoprene and Delrin Couplers which makes it very durable. While it's a sturdy design with a shockproof ABS body and heat-sensitive cutoff system, it ensures your safety.
The machine comes with 4 stainless steel jars and a storage container so that you can store chutneys, spices and other stuff. With its stainless steel and sharp blades can grind the toughest ingredients very easily.
Preethi Blue Leaf mixer grinder is featured with a convenient control knob that allows you to increase and decrease the speed of the machine according to your needs, which makes the process more comfortable.
9. Prestige Iris 750 Watt Mixer Grinder with 3 Stainless Steel Jar + 1 Juicer Jar
Key Features:
● Power: 750 watts
● Revolution: 20000 RPM
● Weight: 4.8 Kg
● Color: White/ Blue
The prestige Iris mixer grinder is a decent and affordable machine in the color combination of white and blue. It comes with three stainless steel jars and one juicer jar.
It has a powerful 750-watt motor to perform all kinds of heavy grinding, blending and juicing functions in the kitchen. With the motor overload protector switch, the grinder ensures safety for your appliance.
The main unit of the mixer grinder is made of abs plastic. The stainless steel jars are rust-resistant and can be washed & wiped easily. The easy-grip handles are sturdy and are made of durable plastic that prevents slippage.
The cylindrical shape of the machine makes it compact and the three-speed setting with whip function allows you to control the speed of the motor according to your need and preference.
It has a multi-function blade system with stainless steel blades that makes blending and grinding an easy task.
10. Panasonic MX-AC400 550-Watt Super Mixer Grinder with 4 Jars
Key Features:
● Power: 550 watts
● Voltage: 220-240 volts
● Weight: 6.55 Kg
● Color: Black
Panasonic MX-AC 400 Super mixer grinder is a multi-purpose grinder that easily accommodates in your kitchen due to its compact design.
You get an international flavor with this mixer grinder, which is evident from the Piano type control switches. The motor runs with the power consumption of watts. The mixer grinder has three stainless steel jars and one blender jar.
The blender jar is extremely durable to use. These jars also have self-lubricating oil seal protection which protects the motor from water seepage and increases the life of your mixer.
It's very much convenient to use in your kitchen by placing it on the countertop. The mixer grinder has a flow breaker jar with which it is easy to increase the grinding efficiency.
The Panasonic mixer grinder is designed for safe & easy use, since the entire unit is made of fire-retardant material, there is no fear of accident.
Conclusion:
Mixer Grinder is a very important part of any kitchen which not just saves your time but also helps in reducing your physical burden.
When it comes to buying a good mixer grinder you have to keep in mind various factors on the basis of which you can choose the best one according to your needs and requirements.
To make your work easier we have prepared the above list along with their features, availability in the Indian market.
I hope you have found this article informative and it may help you in selecting the best mixer grinder for your home.
If you have any doubts and feedbacks, do share it in the comment section below.
Also Read:
Best Refrigerator Brands In India
Best Convection Microwave Oven In India