Music is such a big part of our lives. It is something that is universal and everyone enjoys every culture. Whether we are at home or traveling we all love to listen to music.
So keeping this in mind, today we have tiny portable Bluetooth speakers that are essentially tweeters, but produce some bass to a limited degree, something not quite possible before.
Bluetooth speakers are one modern technology invention that has rapidly become popular. Its demand is also increasing and good portable Bluetooth speaker models are selling like hot cakes in the market.
So, here we have listed the best 10 Bluetooth speakers priced under Rs. 1000 according to the sound quality and the features they offer.
Best Bluetooth Speakers Under 1000 In 2022
TechUnfolded is supported by its readers and when you buy through links on our site, we may earn an affiliate commission. read more
1. boAt Stone 200 Portable Wireless Speaker
Features:
● Power output: 3 watts
● Connectivity: wireless
● Battery life: 10 hours
● Bluetooth: v4.1
● Weight: 322
Recently the boat has released a couple of new water-resistant speakers and the Boat Stone 200 is one of them. The speaker is very appealing and sturdy, it's made of completely plastic except for the metal grille and is protected where rubber material and with some grip on the side so that it doesn't move on the table so the overall build of the speaker is very rugged.
When it comes to portability, the speaker itself is small and lightweight and it is quite portable with a rubber string to hold on while traveling. When it comes to music, the sound quality is pretty good, it has a loud sound with a nice base for its size and fills up the room very decently.
The battery life is also awesome for this size Bluetooth speaker, with the lithium battery it gives you up to 10hours of standby. If we talk about the functionalities and features, it has the aux connectivity which can be used to connect your speaker to your phone or whatever device and you can also make calls directly by clicking the play button.
Check Price: Amazon
2. Philips BT40 Portable Bluetooth Speaker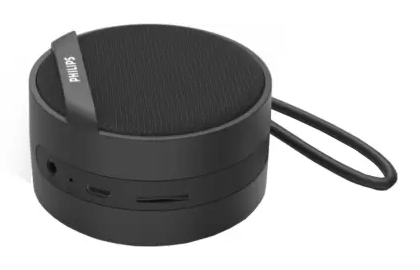 Features:
● Power source: 5 V DC
● Connectivity: wireless 10m
● Battery life: 4 hours
● Bluetooth: v4.1
● Height: 4.1 cm
A small and budget speaker from Philips, the BT40, that looks more like a fashion accessory rather than a speaker and with a spherically cylindrical design, it fits perfectly in your palm. The compact speaker is made of entirely durable plastic with a rubber bottom, a strap for easy portability and of course the mandatory fabric covering the driver.
The most important part is the sound quality, considering the size and price point of the speaker the sound quality is top-notch. The primary form of connectivity is Bluetooth which works seamlessly with almost any device.
Along with this, BT40 has an auxin port which means that you can play songs from a wired device as well, along with that the speaker also has a microSD card slot so using it you can listen to the songs directly from the SD card.
The speaker also has a built-in microphone and they all pick up buttons so you can also take up the call. The speaker provides 4hours of ample time to enjoy music in an outing.
Check Price: Flipkart
3. Photron P10 Wireless 3W Super Bass Portable Bluetooth Speaker
Features:
● Power output: 3 Watts super bass
● Connectivity: wireless
● Battery life: 7.5 hours
● Bluetooth: v4.1
● Weight: 175 g
Photron, the well-known brand has introduced a compact audio device, a Photron P10 Bluetooth speaker that comes with many features. Regarding the design, it's having an amazing look, It's fully made up of metal which makes it feel sturdy and premium, and for more grip, it has a rubber ring below it.
With the output power of 3watt and 40mm woofer driver, it delivers clear sound and the highs and lows are also good. It comes with four connectivity modes which are Bluetooth, FM, auxiliary and microSD card. The P10 is compatible with many devices including smartphones, laptops, tablets, etc.
To select a preferred way of listening to music you get a mode button, and also there is an in-built mic to which you can answer and receive calls. With the 400mah battery, the speaker gives a music playtime of up to 2.5 hours. So at this price, it's a good deal.
Check Price: Amazon
4. Infinity (JBL) Fuze Pint Bluetooth 5.0 Wireless Portable Speaker
Features:
● Speakers: Deep bass dual EQ
● Connectivity: wireless
● Battery life: 5 hours
● Bluetooth: v5.0
● Weight: 65 g
Infinity Fuze Pint, a newly launched speaker by JBL comes with a simple but premium looking design, the fabric top almost makes it look like a smaller google home. It is available in 3 vibrant colors- black, blue and red. This tiny speaker with a weight of 65g, is extremely portable and pocket friendly.
It is featured with dual equalizer which lets you switch between a normal and a deep bass mode. It also has a Google Now/Siri connectivity, through which you can connect your smartphone to change playlists and attend calls, etc. According to the company, the Fuze Pint provides 5 hours of battery life.
If we consider its sound quality, the speaker is quite louder than you would think by looking at them, it has a great sound with heavy bass for its size and price. So for people who want to listen to music which depends on bass to sound good, like electronic and EDM music they can choose this speaker.
Check Price: Amazon
5. Mi Compact Bluetooth Speaker 2 with in-Built mic
Features:
● Speakers output: 2 Watts
● Connectivity: wireless
● Battery life: 6 hours
● Bluetooth: v4.0
● Weight: 12 g
Mi compact Bluetooth speaker 2 from the popular brand Xiaomi looks good and performs well. In terms of design, As just the name suggests the Mi compact speaker is indeed super compact and lightweight as well. It comes with a nice circular geometric kind of mesh design in pure white color.
With Bluetooth version 4.0 you can connect your smartphone and enjoy the songs. With the 2W power output, it delivers a powerful and crystal clear sound. Also, It has an internal microphone which is pretty useful for taking occasional calls hands-free.
Considering the battery, the speaker is powered by a 480million power battery and according to Xiaomi, this will be enough to give you 6 hours of playback time at 80% volume. So, to sum it up Mi compact Bluetooth speaker is perfect for on-the-go music and the cheapest speaker offered by Xiaomi in India.
Check Price: Amazon
6. Portronics POR-280 Sound Pot Wireless Bluetooth Speaker
Features:
● Speakers: 3 watts (360 Loud and high)
● Connectivity: wireless
● Battery life: 7 hours
● Bluetooth: v4.1
● Weight: 249 g
Another budget-oriented Bluetooth speaker POR- 280 by portronics also known as sound pot, comes with a 3-watt power output which gives you high quality 360 Loud and Clear sound. Whereas with the Bluetooth version 4.1 and AUX IN options you can stream music in both ways, wirelessly as well as from your smartphones, laptops and PC.
The speaker has great build quality, as the complete body of the speaker is of rubberized plastic, the speaker looks promising and will provide a good grip as well. Regarding the pairing, this speaker lets you pair up 2 devices simultaneously which is a great thing.
This sound pot also has a special feature i.e waiting mode, if you forgot to turn off the speaker it will automatically go into the waiting mode and after 10 minutes it will turn off, in this way it can also save your battery from draining.
The best part of the POR 280 is the battery backup, with just 2 hours of charge it gives you playback time of up to 7-8 hours.
Check Price: Amazon
7. Zebronics Zeb-County Bluetooth Speaker
Features:
● Speakers output: 3 watts
● Connectivity: wireless
● Battery life: 10 hours
● Bluetooth: v4.1
● Height: 12 cm
Zebronics Zeb County Speaker is an excellent audio device from an Indian brand. It comes in an old boom box-like design with a handy strap on the top which makes it an easily portable device and nice to handle. Along with the unique design, it also has different colors to choose from like Black, Blue, Red, Grey and Green.
Apart from good looks, the Zeb-County is quite robust and strong as it is made of hard material. The 390g speaker equipped with 3Watts total RMS output delivers HD sound quality and is a boon for bass lovers. Zeb-county features an FM radio function which allows you to enjoy the programs from your local FM radio stations.
Coming to the connectivity features, this speaker supports multiple connectivity options like Bluetooth, AUX, and micro-SD cards. And also has an in-built mic for hand-free calls. According to the company, up to 4-5 hours charging, it can operate up to 10 hours.
Check Price: Flipkart
8. boAt Stone 230 3 W Bluetooth Speaker
Features:
● Speakers output: 3 watts
● Connectivity: wireless
● Battery life: 8 hours
● Bluetooth: v4.1
● Height: 9.2 cm
This Bluetooth speaker is made by Boat and the model is called Boat Stone 230. It comes in the usual circular Boat Stone design. This portable lightweight speaker just weighs 245g and is available in two elegant colors- midnight blue and charcoal black. The boat stone 230 with a 1.5-inch single driver can produce a max output of 3 watts.
The speaker's audio quality is decent for the price, you can enjoy the loud and clear sound. As with the most recent trend, with the speaker, there is no auxin port but you get a micro SD card slot and the usual micro USB port for charging.
This speaker is IPx5, which means it's water and sweat resistant, which also helps to protect your audio device from light and rain. The battery life is where Boat 230 stands out, it lasted up to 8 hours at approximately 60% volume. Overall it's a good portable speaker for travelers.
Check Price: Flipkart
9. Thomson BTS-05 5 W Bluetooth Speaker
Features:
● Speakers output: 5 watts
● Connectivity: wireless 10m
● Battery life: 8 hours
● Bluetooth: v5.0
● Height: 7.8 cm
Thomson, a worldwide leading brand popular for its innovative and high quality products, has launched BTS05 5W Speaker. This compact speaker is very light in weight and will easily fit in your pocket. The audio device is packed with the latest Bluetooth version 5.0 that can be easily connected to smartphones and Tablets with a range of 10 meters.
Apart from flawless Bluetooth it also offers other modes of usability like micro SD Card Slot, USB and AUX. Thomson BTS05 powerful speaker is capable of producing more clearer and high definition sound. With a 1200 mAh battery, it can charge fast and lasts for 8 hours.
Unlike every speaker, this pocket-friendly audio device also has an in-built mic which lets you make the calls. So we can say it's a complete package of entertainment.
Check Price: Flipkart
10. HRX X-Boost 5T Portable 5 W Bluetooth Speaker
Features:
● Speakers output: 5 watts
● Connectivity: wireless 10m
● Battery life: 5 hours
● Bluetooth: Yes
● Height: 5 cm
HRX, an Indian company owned by Hrithik Roshan is known for its wide range of products including sportswear, accessories, backpacks and shoes. Now the brand has designed a beautiful Bluetooth speaker. With the power output of 5W and 40mm dynamic driver, you can enjoy the bass and clear notes.
It is also featured with the 6 modes LED technology which creates a different ambiance each time the speaker plays and you can even turn off the light according to your mood. As this speaker is sweat and splash-proof you can carry it anywhere and anytime without any worry.
If we consider its battery life, it comes with a 1000 mAh battery, which gives above par battery backup. So you can use it for up to 5 hours at 70% volume. HRX X-boost 5t is equipped with the latest Bluetooth version 5.0 which provides 2X times faster pairing power and a 4X times wider range. For easy access it has Siri & Google Assistant, so you can easily control its functionalities.
Check Price: Flipkart
Conclusion:
Everyone loves music and nowadays these compact speakers are in trend. So, we have listed out some of the best Bluetooth speakers available in the Indian market keeping in mind various aspects like sound quality, design, durability, performance and most importantly price.
These all are the lightweight mini speakers with a stylish and unique design that not only easy to carry but also suits your requirements. With these good quality Bluetooth speakers, you can enjoy your music listening experience in a better way.
If you have a budget of Rs. 1000, you can consider any of these speakers. We hope that it will help you out in picking the best Bluetooth speakers you might possibly need.
You may also check out:

10 Best Soundbar Under 10,000 In India
10 Best 4K Smart TV Under 30,000