In today's modern technology the latest TVs are getting thinner day by day, which is no doubt a good thing but due to this, there is now very little room for built-in speakers, as a result, it compromises the audio quality.
Hence, to fulfill this need we have the Soundbars. The soundbar is a type of loudspeaker that provides solid audio quality with good bass and will add to your enjoyment level. They are cost-effective, portable and easy to mount above or under a display device.
List Of 10 Best Soundbar Under 10000 In India
Important factors to consider while buying soundbar under Rs. 10,000.
1. Power Output: The more the power output is the louder the soundbar will be.
2. Sound Channel: The recommended sound channel for a soundbar under 10k is 2.1 channel.
3. Connectivity: You should have Bluetooth, HDMI and optical cable options for easy connection. However, connecting through HDMI or Optical cable provides high-quality sounds compare to Bluetooth.
Now let's check out.
1. boAt Aavante Bar 1500 120 W Bluetooth Soundbar
Editors Choice: #1 (boAt Aavante Bar 1550 120 W Soundbar)
Check Price: Amazon / Flipkart
Features:
● Power output: 120 watts
● Frequency: 45Hz – 20Khz
● Impedance: 4 Ohms
● Configuration: 2.1 Channel
● Height: 7.3 cm
boAt is a popular brand that always brings affordable, fashionable and durable audio products. The Boat Aavanate Bar has a very sleek design, with a metallic frame and the body is obviously plastic and a little glossy on the top.
With the 120-watt RMS power output sound with a bassful subwoofer, it delivers a bold and clear sound that will add up to your listening experience.
The Aavante bar fits well with computers, mobile and television so you can connect with all these devices according to your needs. It also has a 3D mode so if you are watching a 3D movie you put it on and enjoy the experience.
It is featured with 2.1 Channel Surround Sound which will give you a cinematic experience and will enhance your entertainment experience. If we talk about the connectivity it can be connected through USB, AUX input, Bluetooth and HDMI ports.
Note: boAt Aavante Bar 2000 is another variant of this soundbar with almost the same features but a higher power output of 160 watts. This is also the best one if you are planning to spend a little more.
Check the price of boAt Aavante Bar 2000: Amazon / Flipkart
2. JBL Moviebar 80 Dolby Digital 110 W Bluetooth Soundbar
Value For Money: (2nd Best Product Of This List)
Check Price: Amazon / Flipkart
Features:
● Power output: 110 watts
● Frequency: 40Hz – 20Khz
● Bluetooth: v4.2
● Configuration: 2.1 Channel
● Weight: 2.8 Kg
JBL Soundbar is very popular in the Indian market, one reason is their products are always on-trend. JBL Moviebar is one of the best models of the brand that is equipped with Stereo 2.1 Channel Surround Sound which provides a great cinematic experience.
The Moviebar comes in a very sleek design with a premium finish, which complements the furnishings in your home. This audio device is very light as well, just weighs 2.8 kg so you can easily pick it up and keep it anywhere.
The 110W sound output and subwoofer will upgrade your music listening experience and you can feel the real, thrilling bass. Also, you get multiple connectivity options including USB, HDMI, optic, aux, remote for ease of accessibility.
The JBL Moviebar supports Bluetooth version 4.2 so by using it you can connect your smart devices and enjoy your favorite songs.
HDMI and Optical connectivity are there to provide clear and crisp sounds for a better listening experience.
3. LG SJ3 300 W Wireless Dolby Bluetooth Soundbar
Check Price: Amazon / Flipkart
Features:
● Power output: 300 watts
● Display: Single LED
● Bluetooth: Yes
● Configuration: 2.1 Channel
● Height: 7.1 cm
The LG SJ3 is a perfect soundbar for those, looking to listen to music and watch movies in a substantial way. It comes with 300W powerful output which gives you an incredible listening experience.
It is featured with Adaptive sound control and an auto sound engine that helps to detect and balance the sound level and dialogue of the content accordingly.
SJ3 Dolby digital delivers superb sound clarity and gives a theater-like feel. But for the connection option, it only has an optical cable, so there is no HDMI port available in it.
This LG soundbar comes in a very simple and elegant design that allows it to perfectly blend with the surroundings and match with your TV.
Since it has a wireless subwoofer you don't have to struggle with the wires and you can place the soundbars anywhere you want. So you can blindly go for it if you are looking for a budget soundbar with good quality.
4. Motorola Amphi SoundX Dolby Wireless with HDMI Arc 160 W Bluetooth Soundbar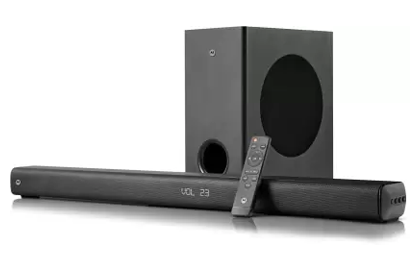 Check Price: Flipkart
Features:
● Power output: 160 watts
● Frequency: 120Hz – 20000hz
● Bluetooth: v4.2
● Configuration: 2.1 Channel
● Height: 46 cm
Motorola is popularly known as the phone brand but now the company has also started manufacturing home audio devices. Motorola has launched 4 audio devices and this Amphi SoundX is one of its models.
The 100w seek and stylish soundbar is 88cm long with the manual button on its right, but you get a remote with all the functionality as well.
You can keep this soundbar either on the table or mount it on the wall. Along with it, you get all the necessary ports and the HDMI Arc to connect external devices and TV.
The Amphi SoundX supports Dolby audio so while streaming movies, web series and your other favorite content you can enjoy the 4k resolution audio experience with Crystal clear sound.
The soundbar comes with 160w wireless subwoofers which makes it easy to keep it anywhere in the room. So if you are looking for a decent audio device it can be a pretty good choice.
5. Blaupunkt SBW100 120 Watts Wired Soundbar with Subwoofer and Bluetooth
Best Budget Soundbar: #5 (Blaupunkt SBW100 120 soundbar)
Check Price: Amazon
Features:
● Power output: 120 watts
● frequency: 35 – 200Hz
● Bluetooth: v4.1
● Configuration: 2.1 Channel
● Weight: 5.9 Kg
Blaupunkt SBW100 Soundbar is equipped with a 120W speaker that delivers loud volume along with heavy bass.
Regarding its build quality and design, this german build audio has a really nice clean set up at a fit under your TV, it's got a black matte finish with a sleek European design which will just blend well with the ambiance of your room.
This Soundbar comes with a subwoofer that adds to the output. Although the subwoofers are not wireless, it connects via a wire, but it doesn't need a separate power cable which is a good thing.
In this soundbar you get multiple music modes like Music, Movie, News and 3D, so with the SBW100, you can also enjoy the 3D sound cinematic experience around you.
As a connectivity option you get an AUX-in, HDMI-ARC, BT and USB, to connect various devices. To control the soundbar you get a remote with various options like switching between all the music modes, play, pause, volume, bass, and many more.
6. Zebronics Zeb-JukeBar 5000 Pro 120 W Bluetooth Soundbar
Check Price: Amazon / Flipkart
Features:
● Power output: 120 watts
● Frequency: 45Hz – 20Khz
● Bluetooth: Yes
● Configuration: 2.1 Channel
● Weight: 85 Kg
Zebronics Zeb-juke bar is one of the few soundbars that Zebronics has recently launched in India. This one is the 5000 pro variant, it has a powerful subwoofer for an immersive entertainment experience.
It is a 2.1 soundbar with a simulated surround sound so you can basically get 360° coverage in your living room to make sure the movies sound great.
As it's a wireless speaker, you can use Bluetooth 4.2 to connect it to your smartphone, PC, laptop and TV as well. It also has other connectivity options including HDMI(ARC), AUX, USB and optical cable. Where HDMI Cable gives the best sound output.
The Zebronics Zeb-juke bars come in a metallic finish with pores in the middle for the sound to radiate from it. With the 120watts of RMS output, the soundbar takes care of the mids and highs while the subwoofers take care of lows and bass.
Zeb-Juke Bar 5000 Pro comes with a decor-friendly sleek and stylish design. Its minimalistic soundbar and wired subwoofer will match the ambiance of any room. Overall it offers a lot of features for such an affordable price.
7. Ant Audio Treble X -SB560 120 W Wireless Bluetooth Soundbar
Check Price: Amazon
Features:
● Power output: 120 watts
● EQ audio modes
● Bluetooth: v4.2
● Configuration: 2.1 Channel
● Weight: 6.2 Kg
Ant Treble X -SB560 is an excellent home entertainment system with simplicity and effectiveness in mind. The 2.1 channel soundbar along with the wireless subwoofer gives you the ideal combination of highs, mids and lows.
The ultra-slim Ant audio device has a 110 dB and 120 watts powerful Stereo audio and four full-range speakers that deliver crystal clear loud sound with deep bass.
Regarding the connectivity option, it has Optical, USB, AUX, HDMI ARC input and Bluetooth 4.2 it has an effective range of up to 50 feet.
The soundbar is compatible with any device, like Smart TV, computer and tablet. This audio system is also featured with 4 EQ audio modes that let you enjoy different wonderful hearing experiences.
The Treble X SB560 is the ultimate system when it comes to the utility in usage as it takes the minimum time to install and set up.
8. MarQ by Flipkart FS23S 120 W Bluetooth Soundbar
Check Price: Flipkart
Features:
● Power output: 120 watts
● Frequency: 45Hz – 20Khz
● Bluetooth: 2.1 with HDR
● Configuration: 2.1 Channel
● Height: 6.7 cm
If you have a very tight budget and you don't want to spend a lot, then you can go for the MarQ FS23S Soundbar that will perfectly match your TV and meet your expectations as well.
The soundbar of 120W comes with subwoofers that offer heavy bass and loud volume to give you a cinema-like experience.
If we talk about its look and build quality, it got a length of 96cm and is really sleek in design. It has a metallic grill covering the front and protecting the drivers.
The bar is black in color and looks minimalistic, whereas the subwoofers of height 380mm may look big but it's pretty light. It is also featured with an LED display which helps you to know what input is on.
Moving to the connectivity option, the soundbar has a USB port and Bluetooth version 2.1 with EDR So, you can connect the MarQ soundbar with devices like Laptops, Tablets, TV, Mobiles and Computer and enjoy your favorite music or any content of your choice.
9. JBL Bar Studio 30 W Wireless Soundbar with JBL Surround Sound
Check Price: Amazon / Flipkart
Features:
● Power output: 30 watts
● 1 A Batteries
● Bluetooth: Yes
● Configuration: Stereo Sound
● Weight: 1.4 Kg
JBL Bar Studio is a sort of budget-oriented soundbar that is packed with a variety of inputs and sound options. It doesn't come with subwoofers, but this powerful soundbar enhances the audio that you get from your TV.
The wireless Bar studio is a little over 24 inches wide, so it doesn't take up much space, and it has a classic design. As far as the sound quality goes, the power outputs 120watt, so it's not going to shake your room but for the price, you get your money's worth.
The JBL Bar studio has a built-in Dual bass port design, hence the vocals come through the speakers well and it's all much better than what you get stocked with most of any new TV, even in the higher-end models.
Also, there is a remote included that covers all the pre-calibrated sound options like night modes surround and sound mode which lets you switch between standard movie, music, voice and sports.
10. Samsung N300 With Built-in Woofer 40 W Bluetooth Soundbar
Check Price: Flipkart
Features:
● Power output: 40 watts
● Frequency: 55Hz – 20Khz
● Bluetooth: Yes
● Configuration: 2.0 Channel
● Height: 10.7 cm
The N300 is a basic and budget-friendly soundbar from the popular brand Samsung. This is a standard on a soundbar that means it doesn't have any subwoofer, so it has two built-in subwoofers along with a sound duct.
Moving to the connectivity point of view, this model comes with different options for connectivity apart from usual power, it has a 2.0 USB port so you can use the auxiliary port and a Toslink which is the optical audio that can be used for Blu-ray players.
If we talk about the sound quality which is the important aspect, this is where this Porsche punches above its weight. The Samsung N300 comes with 40W RMS that brings high-quality sound and gives you an immersive experience.
Auto power on is another good feature of this soundbar, that automatically turns off to save the power if you are connected to a system using the auxiliary or Bluetooth. Also, you have an option to wall-mount the speaker.
Conclusion:
In the above article, we have only listed the branded and best-selling soundbars of 2023 that are available under 10,000. After reading the article we hope you get an idea about the various kinds of soundbars available in the Indian market.
All the soundbars discussed above belong to popular brands and are very affordable as well. So you can buy a soundbar according to your budget and needs and can enjoy your favorite content with a great audio experience.
Our personal choice is #1 boAt Aavante Bar 1550 120 W Soundbar for the best sound output considering the price point of around 7,000. If you can spend a little more than #2 JBL Moviebar 80 Dolby Digital 110W and #3 LG SJ3 300 W Wireless Dolby Soundbar could be the best options.
We hope that it will help you out in picking the best Soundbar you might possibly need. Do share your thoughts and experience in the below comment section.
Related Post:
Best 4K TV In India
Best Fitness Bands In India
TechUnfolded is supported by its readers and when you buy through links on our site, we may earn an affiliate commission. read more