T-shirts are the most comfortable item one can wear. It is part of everybody's wardrobe. T-shirts come in a variety of patterns – Round Neck, V-Neck, Polo necks, Printed, Oversized and more. Because of this variety of cuts, colors and patterns, they have changed the way we dress.
Though if you would like to know some of the leading t-shirt brands available in India then I would suggest you read this article. You can grab more than enough T-shirts for your wardrobe from the brands mentioned below:
TechUnfolded is supported by its readers and when you buy through links on our site, we may earn an affiliate commission. read more
Here's the list of the top 15 best T-shirt Brands in India.
Now, Let's explore the best t-shirt brands.
1. United Colors Of Benetton
An Italian global fashion house well known in youth. This brand brings along sassy vibes with its T-shirts. United Colors of Benetton, a popular clothing brand and as its name itself defines, it is known for its colors.
The brand has a collection of quality t-shirts that are uncompromised in the look sector, especially for youths and teenagers. The t-shirts are well fitted and give you a really smart look.
The best thing is the fabric which is very smooth and comfortable to wear during summer. At the same time, these t-shirts are very affordable as well.
Check Out: Latest Collections
2. Levi's
Our list would be incomplete if we did not include Levi's t-shirt that is bound to make you look classy. Levis really have an excellent variety of clothes especially jeans and T-shirts. Levis Polo T-shirts are comfortable, stylish and extremely durable. Levis products are a safe and long term investment.
Levis clothes are always good looking and are also very simple. But in this simplicity hides a unique and complex conception method based on high-level design, tough and durable materials as well as a comfortable elasticity.
Check Out: Latest Collections
3. Tommy Hilfiger
A Premium brand "Tommy Hilfiger" is a multinational corporation that manufactures apparel for men, women and children, and a wide range of licensed products. If we specifically talk about the T-shirt section the brand provides the widest range of T-shirt options to different categories of people like preppy prints, casual cuts and other formal designs as well.
The T-shirts offer ultimate comfort along with quality. The cloth material is cotton and has smooth stitches all over. You won't find any flaws in that segment, as generally is observed even in some of the branded T-shirts.
Also, you can get amazing colors. We know that the price is very high. But according to the brand & the quality of T-shirts, It is one of the well-known T-shirt brands.
Check Out: Latest Collections
4. WROGN
India's latest fascination with youth fashion has come to a full circle with the launch of WROGN. Co-created with India's cricket poster boy – Virat Kohli who is known for his edgy style on and off the field, the brand symbolizes breakaway youth fashion. Available in fun prints and slogans, these t-shirts go very well when paired with denim.
You can buy WROGN products if you think about quality clothing at an affordable price when compared with the well-established brands. The t-shirts of this brand are of high quality, well-fitted and color patterns are also good but the T-shirt cloth is a bit thick so it may not be that much comfortable for humid climates.
The brand has a great product range and definitely worth a try.
Check Out: Latest Collections
5. Jack & Jones
Jack & Jones is one the luxurious and trusted brand for men in a retail sector, it's a complete package of comfort, style and luxury, jack & jones is now becoming most loveable brand among men, jack & jones products are made of up very smooth fabric which is very comfortable while wearing it.
Jack & Jones is a part of best sellers who own Vero Moda, only brand for girls and jack & jones for men, they are well-known luxury brands in India. The T-shirts make it more casual or premium party wear or formal ones all are just unique and attractive and art at the same time worth their cost.
Check Out: Latest Collections
6. Van Heusen
Van Heusen is a division of Aditya Birla Fashion and Lifestyle. It is India's largest and fastest-growing branded apparel company and a premium lifestyle player in the retail sector. When it comes to leaving the first impression in front of some professional and stay slaying in the office, appearance matters the most.
Van Heusen provides the top class professional apparel with high quality, fitting, comfort and color choice. From formal pants to T-shirts, you found a vivid range to choose from. The T-shirts don't get blurred in a few washes, no bobbling, or whatever other issues.
These T-shirts are sturdy, if legitimate care is taken can be utilized for a drawn-out stretch of time. However, casual collections from the brand are no less applauding.
Check Out: Latest Collections
7. Peter England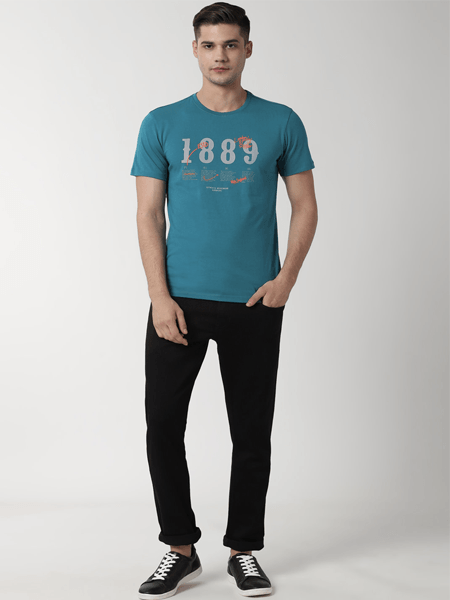 Very few of us know that Peter England is an Indian brand and was launched in India around 1997 by the mighty Aditya Birla Group. This brand was initially an export quality clothing that was exported to foreign countries but then the owner decided to launch it In India also.
The basic and most important factor of Peter England is that the kind of fabric they use is absolute to a whole new level and has no comparison to any other brand. It has the finest clothing experience and fitting is very comfy. The comfort level can also be defined as It gives the kind of look in which you can go anywhere.
An average T-shirt of Peter England costs around 600-1500 rupees which is worth the price If you can afford this kind of quality clothing. The cloth of Peter England is very durable and will last for a long time.
Check Out: Latest Collections
8. Roadster
Roadster is an Indian fashion brand owned by Myntra. Roadster design fashionable clothes and shoes for both men and women. If you want cheaper and clothes trending now and you change clothes in the wardrobe from time to time then it's a good option.
Roadster has an amazing T-shirt collection so you can just take a pair of jeans or denim top wear. The quality of Roadster's product is surely better than many other famous clothing brands.
If your budget is low and also you want to purchase something trendy and classy certainly you should go for it.
Check Out: Latest Collections
9. HRX by Hrithik Roshan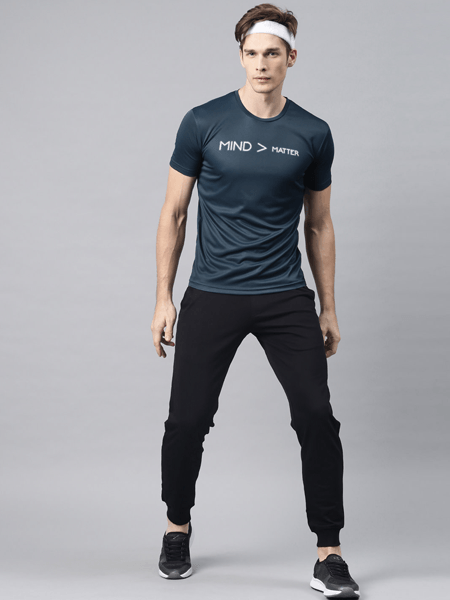 Inspired by his momentous journey as a Bollywood actor and fitness buff, Hrithik Roshan built HRX – India's first homegrown fitness brand back in 2013. Hritik Roshan has done some fabulous job by creating the HRX brand. Many people have appreciated its design and good looking products.
HRX has been launched to inspire and guide billions of people around the world. It aims to help people achieve their fitness goals. HRX is not just a brand, It is a mission that helps us enable and support people to be the fittest and most confident version of themselves.
Check Out: Latest Collections
10. Allen Solley
Allen Solly is one of the most reputed brands of clothing available in India. Launched by the Aditya Birla Group in 1993, Allen Solly has grown leaps and bounds in terms of the quality and class of products it delivers. This is a less expensive brand with vibrance in its clothing range it's for the younger ones.
Allen Solly t-shirts are known to be the best in the market because of the fabrics that are used which are ideal for Indian weather. T-Shirts are high in quality, very well-fitting and have a medium price range.
It occupies extra finishing and smoothness which are durable and style fit which complements the Indian body types. The brand will provide you the best T-shirts for men in India without making a hole in your pocket.
Check Out: Latest Collections
11. US Polo
U.S. Polo Assn. is the authentic and official brand of the United States Polo Association established in 1890. T-shirts are worn by the players on the field slowly and gradually became famous amongst viewers and lovers of the game and people started wearing the same T-shirts. It became the trend and its lovers are increasing day by day.
The quality of the product is enhanced according to the needs and increasing demands of its followers. The brand timely changes its themes and the stuff to give an attractive look in different weathers and for the comfort abilities for the people who love to wear it.
Most of the T-Shirts come with the tailored fit which means it won't be a slim fit not it would be a regular fit. A tailored fit lies between the slim and the regular fit.
Check Out: Latest Collections
12. Lee
Lee is the signature of quality, innovation and durability. Lee is an American brand of denim jeans, first produced in 1889 in Salina, Kansas, USA. Lee is a popular brand that has certainly made a huge impact in India. Although Lee is known for its jeans, their range of t-shirts are exclusive and of the highest quality.
Lee t-shirts have always lead the market in terms of style statements and designs. Their logo on the t-shirt symbolizes a brand name that is renowned the world over. For people who are accustomed to only wearing t-shirts by Lee, there is absolutely no problem.
Lee t-shirts can be purchased anywhere in the world. Go for this brand if you really want a T-shirt which you can wear the whole day without feeling uneasy.
Check Out: Latest Collections
13. Louis Philippe
Louis Philippe is a Luxury Indian brand of men's apparel founded in 1989. It is a brand of Madura Fashion & Lifestyle, a division of the Aditya Birla Group India. It was one of the largest apparel brands in India as of 2018. It is known for its top quality and stylish t-shirts.
Though a bit on the pricey side, this brand's tees are very well-fitting and are made up of colors that are a bit on the oversaturated side. So it certainly catches attention.
The t-shirts are durable and suit your bold casual demand for fashion. You can find several outlets and stores all over the nation.
Check Out: Latest Collections
14. Spykar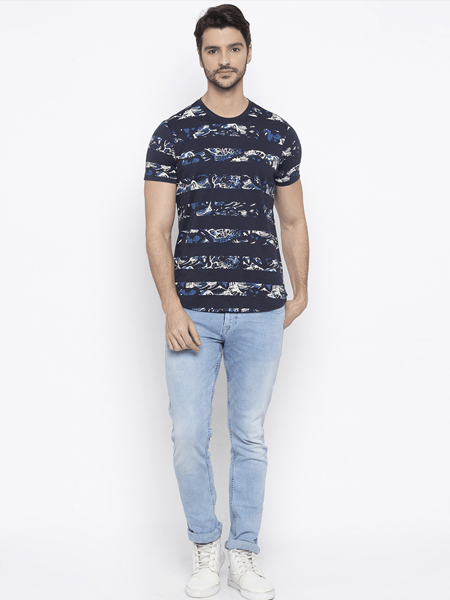 Spykar is another popular clothing brand, which has made it into this list. Spykar is an apparel brand of Spykar Lifestyles Pvt. Ltd. that offers premium quality clothes including T-shirts. Combining all that is required, style, and affordability, Spykar is a t-shirt brand that is globally acclaimed for its innovative designs.
With a complete range of t-shirts in a huge variety of fabrics and colors, Spykar entails over 15,000 designs and colors. These t-shirts not only are high on style and quality, but they are also high on comfort, which is one of the important factors while choosing the right T-shirts in India.
Check Out: Latest Collections
15. Wrangler
Wrangler is one of the most popular brands when it comes to t-shirts. This brand got a very broad history in the market as the segment served by this brand is very wide. The brand has been operating since 1904 and they have satisfied most of their customers by the fabric used in their clothes and their unique designs.
It is one brand that focuses on comfort and quality. It brings a delightful range of t-shirts for men. The collection of Wrangler t-shirts is so wide that you would want to buy them all. The blend of comfort and style is what makes Wrangler different from others.
Check Out: Latest Collections
Conclusion:
Some people wear T-shirts because it is comfortable, some people wear it because it's their style. Mostly, people who like to wear T-shirts are practical people, so they don't want to spend their time on choosing what outfit they should wear.
It is easy to wear a T-shirt than to wear a suit or other clothes. T-shirt is used on informal attire and casual look, additionally you can look classic effortless. In short, even the most stylish person owns a T-shirt in their wardrobe because it's practical and stylish.
To minimize your efforts and confusion we have mentioned above a list of the top 15 brands that provide you the super quality fabric T-shirts in India.
We hope it helps you select the right brands for your next buying decision. Do let us know if you have any feedback or suggestion in the below comment section.
Read Related Post: