Are you looking for the best horizontal geyser? Well if so there are a few things you need to consider before buying one to make sure you get the best unit possible.
First of all, when looking at getting an electric water geyser you need to look at the storage capacity to make sure it can accommodate the number of bathrooms and sinks in your home.
Next, you need to consider the functions of the unit like how much water it provides. Another thing to look into is how to maintain it. Is it corrosion-free that has a longer service life?
Comparing warranties will also give you hints on what the unit can provide and the benefits for you. Now that you have a better idea of what you are looking for join us as we represent in our list of the 9 best water geysers In the market today.
Best Horizontal Geysers In 2022
TechUnfolded is supported by its readers and when you buy through links on our site, we may earn an affiliate commission. read more
1. Havells 15 L Storage Water Geyser (Monza Slim 15 White)
Features:
● 15-liter storage
● 8 bars pressure
● Power consumption: 2000 W
● Weight: 8 Kg
● Color: White
First, we have Havells Water Geyser that can supply 15 liters of hot water for your daily needs. It's very easy to install on the wall as it comes with a mounting design that works in limited and tight spaces like kitchens and bathrooms.
This horizontal water geyser is very efficient since it has a 2000-watt stainless steel heating element that prolongs the contact rods and the tank life.
In addition, this water geyser is equipped with a flow technology which not only ensures faster heating but also saves energy and provides 20% more hot water output.
For your convenience, it is designed with an adjustable knob so that you can set its temperature according to your needs.
Apart from this, it has a 5-year warranty on the inner container and 2 years on the body and electrical components that everyone else will surely grab.
Buy Link: Flipkart
2. AO Smith 15 L Storage Water Geyser (HSE-HAS-X-015, White)
Features:
● 15-liter storage
● 8 bars pressure
● Power consumption: 2000 W
● Weight: 12 Kg
● Color: White
This American made water geyser with measurements of 32 cms X 49.2 cms X 32 cms is best at dispensing hot water by itself. It comes in a stylish wall-mounted design to help free up floor space so you can use that for other things.
The product is enhanced with advanced PUF technology to ensure energy efficiency. The AO Smith horizontal water geyser in the color white has a minimum temperature range of 25 to a maximum of 75 degrees with a 15-liter water tank capacity.
It uses a glass-lined material that ensures the continuous availability of hot water and also helps in increasing the lifespan of the tank. This highly durable and efficient water geyser can heat the water within 20 minutes making it a mid-range model.
This unit is backed by a seven-year tank warranty and a two year on all other parts. This is surely one of the best horizontal geysers you can buy in the budget.
Buy Link: Flipkart
3. V-Guard 25 L Storage Water Geyser (Steamer Plus ECH, White)
Features:
● 25-liter storage
● 8 bars pressure
● Temp range: 75 degrees C
● Weight: 14.9 Kg
● Color: White
Next is the V-Guard Water Geyser made by one of the world's leading global suppliers of technology and services. You can rest assured that this particular unit is powerful enough to deliver unlimited hot water.
It comes with an innovative high-quality Incoloy 800 heating element and has a capacity of 25 liters. The product has a decent water pressure of up to 8 Kg/cm2 so it can accommodate your house or even a high-rise building.
Its wall-mountable design is also a plus for those who max out their space. Moreover, it's very easy to clean this geyser, you can normally wipe it with the help of cotton.
As for the water temperature, it can reach up to 75 degrees celsius perfect for this winter season. Hence, this product is a complete package that brings together durability and functionality with an appeal.
Buy Link: Flipkart
4. American Micronic- 15 Litre Imported Horizontal Water Heater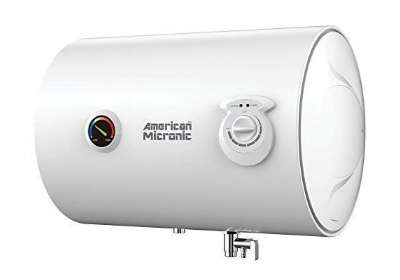 Features:
● 15-liter storage
● 8 bars pressure
● 5-star rating
● Weight: 13 Kg
● Color: White
American Micronic is a great 15 Litre Imported Horizontal water heater that comes with a 1.8 mm Ultra-thick inner steel tank and can handle 8 bars of pressure.
In terms of build quality, the American Micronic is a sturdy water geyser that is built with high-quality corrosion-resistant components to ensure its efficiency, durability and to be easily replaced if anything goes wrong.
It's enhanced with a capillary thermostat which allows you to have full control of how hot the water is and be able to set it from anywhere from 30 degrees C to 70 degrees C.
When it comes to safety, it is IPX4 rated and provides you the multiple safety measures to protect you against overheating, overpressure and electric shock especially designed keeping in mind the Indian water conditions.
Buy Link: Amazon
5. Racold 20 L Storage Water Geyser (ANDRIS SLIM, White)
Features:
● 20-liter storage
● 8 bars pressure
● Material: ABS
● Power consumption: 2500 W
● Color: White
Our next pick is a 20 L Water Geyser by a popular brand called Racold Andris which has released its new models into the Indian market in every category.
This water geyser has a space-saving horizontal design which is crafted by Umberto Palermo, offering a luxurious look to your bathroom. The Racold Andris water geyser is equipped with a high-power heating element which means that you get the hot water in no time.
The company has incorporated flexomix technology with an enamel coating that helps to control the system and deliver 10% more hot water while its titanium plus technology provides 25% faster heating compared to other brands.
For your convenience, it has a temperature regulation knob to adjust the temperature and an LED lamp to indicate that the water is heated.
Buy Link: Flipkart
6. Black + Decker 15L Storage Water Heater – Horizontal, White
Features:
● 15-liter storage
● 8 bars pressure
● Voltage: 220- 240 volts
● Weight: 8.7 Kg
● Color: White
Black + Decker is a powerful electrical appliance that is designed to give you a relaxed bathing experience. This simple and compact 15-liter horizontal geyser is a perfect option for medium-sized families.
Moving on to its other specs, this unit comes with a Quadro glass technology that helps to make the healing process quick hence saves a lot of time. Besides it, the Black + Decker is very energy efficient as it has a BEE 3-star rating, so it is going to save money from your electricity bills.
The Black + Decker water heater is crafted with a high-density PUF insulation system that keeps the heater warm which results in energy conservation.
From a safety point of view, this water heater is very safe to use and handle as it is combined with many great features such as Auto cutoff and a multi-functional safety valve that makes it one of the safest water Heaters.
Buy Link: Flipkart
7. Haier 15 L Storage Water Geyser (ES15H-E1, White)
Features:
● 15-liter storage
● 8 bars pressure
● 4-star rating
● Temp range: 75 degrees C
● Color: White
If you are looking for a reliable and the best horizontal geyser for this cold weather, then the Haier Precis Horizontal Water geyser can be an excellent option for you.
This powerful water geyser comes with a capacity of 15 liters and equipped with many amazing features & functionalities to provide you with a hot and refreshing shower. This compact unit is a space saver and can be fit in any corner of your bathroom.
In addition, it is combined with several safety functions such as shockproof, safe care, voltage fluctuation proof and a high-pressure rating of 8 bar so that anyone can operate it without any hassle.
Also, it is featured with RSC technology for the continuous flow of hot water. Moreover, it comes with a 7 years warranty so you can rest assured you will have support if anything goes wrong.
Buy Link: Flipkart
8. Usha 15 L Storage Water Geyser (Aqua Horizon, White)
Features:
● 15-liter storage
● 8 bars pressure
● Power consumption: 2000 W
● Weight: 9.8 Kg
● Color: White/ grey
Usha Aqua horizon is another smart water heater by the well-known brand which is designed to provide you with a warm bath during this winter.
The best thing about this water geyser is that the company has incorporated 5 safety features in this water geyser-like intelliValve, temperature sensor, dry heating protection, glass line coating and waterproofing IPX4 to ensure the highest amount of safety possible while operating it.
With a quick heating, PUF Insulation and energy-saving technology it is a multi-purpose appliance for your family's daily needs. In terms of build quality, it is made of ABS plastic body and while the heavy-duty magnesium anode rod with rust-resistant elements extends the life of the heater.
This wide range of innovative features in this water heater makes it highly durable and recommendable appliances.
Buy Link: Flipkart
9. Orient Electric 25 L Storage Water Geyser (EcoWiz, White)
Features:
● 25-liter storage
● 8 bars pressure
● Power consumption: 2000 W
● Weight: 12 Kg
● Color: White
Orient, an Indian reputed brand introduced a 25-liter electric water geyser with an increasing level of innovative features for the modern Indian family. This highly efficient water geyser has a great build structure with superior heating elements.
Additionally, its inner tank is built with Titanium Enamel-lined tank which is much better as compared to glass lined or steel tanks. With the 8 bar pressure and power consumption of 2000 watts, this water heater can handle the pressure in High rise apartments.
The Orient electric water heater has a PUF layer that keeps the water hot for a long time. Also, it is enhanced with various safety measures to make the geyser safe for unwanted incidents like fire and overheating. And since this unit has been rated five stars by BEE, it saves you from huge electricity bills.
Buy Link: Flipkart
Conclusion:
Winter is around the corner and it becomes quite hectic to take bath in this cold weather. Hence if you are planning to buy a new water heater, you obviously want the best and the safest product that the market has to offer.
Thus, we have brought a list of premium quality water heaters that will assist you in your daily chores. All the water geysers mentioned above come with many amazing features that you require in your geyser.
So, we hope this article or information may help you out in your selection process and you get the one that suits your needs.
If you still have any doubt or any confusion regarding the water geysers you can leave your queries below and we will try our best to solve your problem as soon as possible.
Read More:
Best Automatic Washing Machine In India
Best Mixer Grinders In India
Best Electric Kettles