What is ePub?
ePub is an XML-based e-book publishing format standard, file content is expressed as XHTML, a combination of HTML, CSS and XML to provide you an all-around aesthetic document as compared to PDF, in plain text, digital text and converted text.
The full form of ePub is Electronic Publication.
What is an ePub reader and how to open ePub files?
ePub reader is a file viewer that helps you open and read ePub e-books and document files which has a ".epub" file extension. It is used by readers who prefer to have a better reading experience while reading e-books and other documents.
Here we did a research and listed top 10 best ePub readers for Windows.
1. Epubor Reader
Epubor reader is the most powerful ebook reader with some beautiful features. It offers a very beautiful design and user-friendly interface. Epubor reader supports multiple ebook formats which include EPUB, MOBI, AZW, AZW3, PRC, TXT, HTMLZ, etc.
It provides you a fully customizable reading experience and enables you to view, organize and manage all your ebooks in all kinds of formats in a single library.
If you like to read ePub books and manage all your books in a single library then Epubor reader is a good choice for you.
Supported Platforms: Windows 7, Windows 8, Windows 10 and Mac OS X 10.8 and later.

Download Epubor Reader for Free
2. Calibre
Calibre is one of the well known ePub readers for Windows PC. Calibre is recommended if you are looking for a good ePub reader for your Windows PC.
One of the best features of Calibre is the "news" feature, It fetches news from different websites all over the world in some major languages and displays the news as a book.
Along with this, It also has multiple features like an e-Books converter in different formats, ePub books manager, downloading new ePubs, Downloading book covers and ebook divice finder.
It also allows you to transfer books from one device to another device with ease. Magazines and comics and also be opened and read through this ePub reader.
Supported Platforms: Windows 7, Windows 8, Windows 8.1, Windows 10 and Windows Vista.

Download Calibre for Free
3. Neat Reader
Neat Reader is another powerful ePub reader that provides a world-class reading experience to the ebook reading enthusiast. It allows readers to use the same software to read ePub files on any platform and ensure data synchronization on each platform.
Neat Reader works on all devices and the syncing process is seamless. The best thing about this software is it works on android and iOS mobile devices too.
You need to buy a premium feature if you have a huge collection of ebooks and want to use cloud storage of 10 GB or cross-device synchronization provided by Neat reader.
Supported Platforms: Windows 7, 8, 10, android/iOS mobiles and web browser.

Download Neat Reader for Free
4. BookViser
BookViser is an ePub reader for Windows that offers a realistic ebook reading experience. It has been designed in a way that gives the experience of reading a physical book.
Read More: What Is Kindle Cloud Reader
Some of the best features of this software are advanced text processing, library management, import ebooks from the web, organize ebooks, bookmarking, brightness control and social media sharing.
BookViser is also supported on Windows phones and tablets. Just download and check its amazing feature.
Supported Platforms: Windows 7, 8, 10, Windows mobiles and tablets.

Download BookViser for Free
5. Freda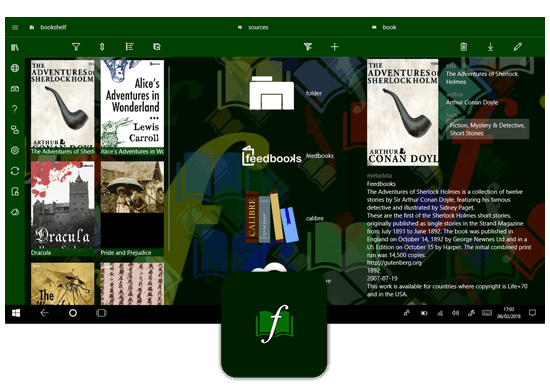 Freda is a free software for reading ebooks on Windows. You can read over 50,000 public domain classic books, feed books, Gutenberg and other online platforms. You can also read your own ebooks in the supported formats: EPUB, MOBI, FB2, HTML and TXT.
It allows you to customize fonts, color, annotations and bookmarks. You are also allowed to use text to speech feature of this software. Transferring of books from OneBrive or DropBox to your phone can also be done with this software.
You can download books and keep them on your mobile phone so that you can carry on reading when you don't have network connectivity, and you can pin your favorite ebooks to the start page.
Supported Platforms: Windows 8, 8.1, 10 and Windows mobiles.

Download Freda for Free
6. Adobe Digital Editions
Most of the publishers use Adobe digital editions to open ePub files and proof-read their books on Windows. It opens the ebooks in the most optimum format across PC, MAC, tablets or mobile devices and gives a seamless reading experience.
You can buy digital content as well as read online and offline. It allows you to sync your downloaded or offline ebooks on all devices you have. Other features of this ePub reader are bookmarking, text highlighting and note creation.
Organizing your digital files and managing devices with Adobe Digital Editions with options to create custom bookshelves sorted by title, author, and publisher name can also be done here.
It is also available on the App Store & Google play store.
Supported Platforms: Windows 7, 8, 8.1, 10, Mac, iOS mobile and android mobile.

Download Adobe Digital Editions for Free
7. FBReader
FBreader is another open-source ebook reader that also supports ePub, plain text, HTML, RTF, ePub 3, Doc, FB2, and MOBI. It was released on April 13, 2008, and originally written for the Sharp Zaurus. Currently, it runs on many devices like Nokia phones, Linux, Mac OS X as well as Windows desktop computers.
Major features of FBReader are library building, text search, full-screen mode, screen rotations, text to speech, hyperlinks, embedded images and cross-platform compilation.
Supported Platforms: Windows 7, 8, 8.1, 10, Mac OS X, Linux and a few android mobiles.

Download FBReader for Free
8. Kobo
Kobo is not just an ebook reader app but allows you to buy books with an integrated store. Finding and browsing ebooks from bookstore by title, author, or topic in the search bar is really simple with Kobo.
Kobo lets you organize and manage your books as well as save them on storage space. Some of its features are font style selection, font size, preferred alignment, margins, line spacing and themes to choose for day and night.
Kobo desktop app syncs all your bookmarks, so you can switch between your computer, Kobo Reader, tablet or smartphone and always pick the right spot where you left off.
Supported Platforms: Windows 8, 8.1, 10, Mac and Web App.

Download Kobo for Free
9. Cover
Cover is the best app to read and manage your comic books. It is the most recommended comic reader and has been featured by Microsoft in the US, France, CA, etc.
It synchronizes when you add or edit any ebooks using Windows Explorer. 25 ebooks can be accessed in the free plan of the cover app without any feature restriction.
You need to go for in-app purchases to unlock unlimited ebooks and remove the ads. With In-app purchases, you are also allowed to sync all your devices like phones, computers and tablets.
It provides a beautiful UI interface with a seamless reading experience as well as supports Dropbox and OneDrive for additional storage.
You can even customize your reading experience with your preference by changing page dimensions, background color, text size and font style. I would recommend Cover if you love to read comics and ebooks.
Supported Platforms: Windows 8, 8.1, 10 and mobile phones.

Download Cover for Free
10. Bibliovore
Bibliovore is mostly dedicated to reading ebooks that are in ePub format. It can be downloaded from the Windows App Store and is completely free for Windows desktops.  It imports individual ePub and PDF files, and can also scan and open the contents of a folder tree.
If you want to customize your viewing experience, it allows you to change fonts, background and foreground color and day/night reading mode.
Some of the major features of Bibliovore are library management, metadata editing, search, OneDrive access, downloading ebooks from Gutenberg and Ebooks Gratuits.
Supported Platforms: Windows 8.1 and later.

Download Bibliovore for Free