If you are a game lover and also love to watch these kinds of content on YouTube then you must be aware of the famous gaming channel with amazing commentary, yes we are talking about Techno Gamerz.
This article is going to be fun for most of you as we are going to discuss this highly popular YouTube channel and the man behind this channel.
With more than 29 million subscribers,  Techno Gamerz is one of the most famous Indian gaming channels on YouTube. And the person who has achieved this position through his hard work and dedication is Ujjwal Chaurasia, who actually doesn't need any introduction.
Basically, Techno Gamerz is a YouTube channel with a variety of gaming content including Fortnite, Pubg and GTA V, etc. He started this YouTube journey 4 years back in 2017 when he was just 15 and today he is known as the Gamelord.
The reason behind his huge fan following is of course his knowledge of this field but what makes him more popular is his communication skill and the way he does commentary while playing makes him stand out from the crowd.
If you too are a gamer or just like Techno Gamerz you also thinking of starting your YouTube channel as a game streamer but confused about which type of monitor you should buy or which model processor you should go for, then you will be happy to know that for your help we have prepared a list of components that Ujjwal Chaurasia uses in his pc set-up.
Techno Gamerz PC Setup And Specifications In 2022
So, now you can also buy exactly the same and replicate it with one of your own PC components.
1. Monitor: Benq EX2780Q 27″ 2K Display
This 27 inch model by the Chinese company Benq is a powerful gaming monitor that lets you play the latest games. The Benq EX2780Q is equipped with HDRi technology along with a color vibrance feature that offers visibility even in dark scenes with great clarity which means you can easily take out your hidden enemies.
While its 144 Hz refresh rate ensures smooth images even in high-speed action sequences. In addition, this monitor comes with controls and 5-key navigators which allows you to alter the settings as per your preference.
A solid speaker can take your game streaming fun to another level, therefore this monitor is combined with 2 W speakers and a 5 W woofer that produces stellar sound and gives you an incredible gaming experience.
Apart from this, Benq EX2780Q comes with three game modes like calibrated for car racing games, CS: GO games and battlefield games which will level up your gaming skills.
Check Latest Price at: Amazon
2. CPU: Intel Core i9 Processor
When it comes to gaming, everyone wants a CPU that can run heavy games and can give you the ultimate experience without any lagging issue. Intel Core i9-9900k, the 9th Generation processor is one of them that will give you exceptional performance with amazing speed.
Powered by Intel Turbo Boost 2.0 technology and eight cores with 16 threads support, it can handle all sorts of workloads, any in-game scenario, video and 3D work with great ease. Further, this product offers a base frequency of 3.60 GHz and can be boosted up to 5GHz.
This unit supports an Intel smart cache with a GDDR4 type memory of 16 MB with a maximum memory size of 128GB. After streaming heavy games overheating is a common problem but with this processor, you don't have to face such an issue as it is equipped with thermal monitoring technology that prevents it from overheating.
So, whether you are looking for modest frame rates or want to play at a higher resolution, the Intel Core i9-9900K will be a capable fit.
Check Latest Price at: Amazon
3. Mouse: Logitech G502 Gaming Mouse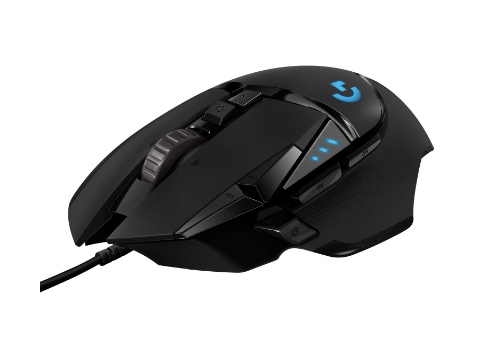 The Logitech G502 is a superfast gaming mouse that will cater to all your needs. From a design perspective, this mouse comes in a matte black finish and has a stylish look. It features an advanced optical sensor with up to 12,000 DPI for the ultimate in gaming speed and responsiveness.
At the same time, it also allows you to shift through up to five settings per profile to instantly adapt to any situation. Further, this mouse equipped with an improved dual-mode hyperfast scroll wheel that provides great accuracy, better precision and makes you feel like you are right inside the game.
The Logitech G502 comes with 11 programmable buttons that help you to perform complex combos and gives you customizable control over your gameplay.
So, whether you are competing against rivals in an online multiplayer game or playing a single-person adventure game, this cutting-edge light mouse is a necessary tool for a seamless and fluid gaming experience.
Check Latest Price at: Amazon
4. Keyboard: Logitech G 613 Wireless Keyboard
The Logitech G 613 is an advanced wireless keyboard created keeping in mind the game lovers who want the freedom of wireless gaming by avoiding the hassle of cables. It comes with an in-built Romer-G mechanical switch for 25% faster speed, pro-grade performance and better responsiveness.
What makes this keyboard handier and user friendly is its dedicated media controls like play, pause, skip, adjust buttons which helps you to adjust the background tracks without switching out of your game.
Additionally, the company has added six dedicated programmable G-keys to the keyboard that let's control the actions easily with just a keystroke while it's Logitech Gaming Software helps you to manage your personal profile and other related commands.
Other features include Lightspeed Wireless Technology, Customizable Game Mode, Integrate Palm Rest, etc. You can connect this keyboard with Windows 7, Mac OS X 10.10, Chrome OS, Android 3.2, etc using wireless and Bluetooth connectivity.
Check Latest Price at: Amazon
5. RAM: Corsair Vengeance LPX 32GB DDR4
As we all know RAM is an important aspect of any PC setup, this impressive 32 GB memory is a sweet spot that will let you stream high-end gameplay. If we talk about its build quality, this RAM is made of pure aluminum with a classic black-gold combination for faster heat dissipation which means it helps to push your PC to its full potential without creating any overheating issue.
In terms of durability, the RAM is protected with an eight-layer PCB. The Corsair Vengeance LPX comes with the DDR4 form factor that provides higher frequencies and larger bandwidth. Also, it consumes less power compared to DDR3 modules.
Further for the trouble-free automatic overclocking, it has XMP 2.0 support. To conclude, the Vengeance LPX 32GB RAM is designed to cater to the high-performance overclocking needs so that you can enjoy the best gaming experience.
Check Latest Price at: Amazon
6. GPU: MSI GeForce GTX 1080
If you are a person who loves to stream high-end games then you must understand that GPU is even more crucial than the CPU as it helps to run the game more efficiently and makes them look better with higher resolution graphics and improved framerates.
Hence, The MSI GTX1070 is one of the best graphics processing units that includes some amazing features such as customizing fan profiles, benchmarking and video recording. This GPU supports multi-GPU technologies for the ultimate experience.
Powered by NVIDIA GeForce, it can smoothly process all your high-resolution graphics. Further, it is combined with the patented blade design, MSI TORX fans which delivers strong cooling performance while ensuring silent operation.
Advance Zero Frozr Technology helps to eliminate the noise of spinning fans and make sure that you just focus on your game.
Check Latest Price at: Amazon
7. Cabinet: NZXT H510 Compact ATX
The NZXT H510 Cabinet is a compact mid-tower ATX case that is an excellent value for your money. If you want a small-footprint ATX case then, this is a perfect option for you. For optimal internal airflow, this cabinet has been combined with Two Aer F120mm fans and removable filters.
This product comes with a removable radiator mounting bracket which lets you customize your build according to your specification. While its patented cable management system makes this cabinet more convenient, it looks smarter and easy to use.
In terms of connectivity options, The NZXT H510 supports USB 3.1 Gen 2-compatible USB-C connector along with one port for audio/mic so that you can connect your smartphones, high-speed external storage and the latest peripherals to the PC with great ease.
Check Latest Price at: Amazon
8. Motherboard: GIGABYTE Z390 AORUS Ultra
The motherboard is a central circuit hub, also known as the mainboard, which helps to connect various components and peripherals to the computer. The model which Ujjwal Chaurasia uses in his PC setup is the GIGABYTE Z390 AORUS motherboard that can work with all 9th and 8th Intel Core Processors.
When it comes to performance, it uses a thermal design with screwed mounted heat sinks and a thick thermal pad in order to provide ultimate cooling performance for enthusiasts and gamers.
With durability in mind, it offers a thermal solution for M.2 SSD devices and prevents them from throttling and bottlenecks from high speed by eliminating heating issues. Further, this motherboard is equipped with advanced technologies like12+1 Phases digital VRM solution with DrMOS to give you an unbuffered performance.
Overall GIGABYTE Z390 AORUS is a highly efficient gaming motherboard that is designed for those who want to maximize their system's potential.
Check Latest Price at: Amazon
9. CPU Cooler: NZXT Kraken Z53 240mm
The next component we are going to talk about is CPU Cooler which is also very necessary if you are a heavy gamer. NZXT Kraken Z53 is a 240mm great-looking and powerful CPU cooler.
From a performance point of view, this ultra-efficient CPU cooler is featured with a chamfered intake and fluid dynamic bearings that deliver whisper-quiet operation and make it reliable.
Additionally, it is combined with an Aer P radiator fan for powerful cooling performance. Another added benefit of this CPU cooler is its user-friendly features, which makes it simple-to-use, easy to control and simple to install.
While its bright 2.36-inch diameter screen with CAM's unique software interface allows you to customize more than fine-tune settings, display your favorite images and animated gifs. In addition, this CPU cooler is backed with a six-year warranty, so you can feel assured that it won't let you down any time soon.
Check Latest Price at: Amazon
10. Microphone: Shure SM7B Cardioid Vocal
The Shure SM7B may be competitively priced, but the degree of originality it possesses is uncommon in this range. If we talk about its look, this dynamic microphone comes in a classic cardioid polar pattern with an improved bracket design to provide greater stability.
While its rugged construction and excellent cartridge make this microphone reliable. On vocals, the Shure SM7B delivers the purest sound, as it has a protective shield against electromagnetic hum generated by computer monitors and other electrical devices.
In order to reduce plosive sounds, it is combined with a standard windscreen and an additional A7WS detachable windscreen which produces perfect sound even for close-talk vocals. On the other side, its effective pop filter and Internal air suspension help to avoid your breath sounds & mechanical noise.
Overall this product's smooth and wide-range frequency response makes this an ideal option for speeches, voiceovers and other related professional audio applications.
Check Latest Price at: Amazon
11. Headphone: HyperX Cloud Alpha Pro Gaming Headset
The HyperX Cloud Alpha Pro is a perfect gaming headset that can turn your video game from a fun distraction into a fully immersive experience. The primary highlight of this headphone is its 50mm dual-chamber drivers that produce accurate sound frequencies by eliminating the distortion.
In layman's terms, we can say it offers high-quality sound with great comfort. In terms of durability, it is made up of a pliable leatherette headband, premium red memory foam and aluminum frame making it a perfect blend of a premium design and sturdy build quality which means you can use it roughly on a daily basis.
This unit is compatible with PC, PS4, Xbox One and other platforms with a 3.5mm port. Also, it has a detachable noise-cancellation microphone which helps to eliminate the unnecessary background sound. Additionally, it has a detachable braided cable along with in-Line audio controls, allowing hassle-free adjustments.
Check Latest Price at: Amazon
12. Webcam: Logitech C922 Pro Stream Webcam
In order to get the best visuals for your audience, you should have a high-quality webcam so that they can see you react to what's happening while streaming the game.
The Logitech C922 Pro is an advanced webcam that is designed for professional-quality video streaming. With a crisp 1080p full HD resolution camera and autofocus lenses, it can capture even the tiniest details with great clarity. While its two in-built mics can capture your voice from every angle.
The best part about this webcam is that it has an automatic light correction system that adjusts itself with flickering room lights and works even in poorly backlit settings.
Apart from this, the Logitech C922 Pro comes with versatile mounting options, so you can securely mount or position it on a monitor, laptop or tripod as per your requirement.
Check Latest Price at: Amazon
Conclusion:
You just went through the article and got to know about the complete Techno Gamerz PC setup or peripherals that he uses in his YouTube channel while streaming games.
The main reason behind this article is to give you detailed knowledge about Ujjwal Chaurasia's PC components as many of you admire him, follow his YouTube channel and some of you might want to start your own YouTube career as a game streamer.
Also, you may want to have such an amazing PC setup to play heavy games at the highest resolution. So, with the help of this article or the above list of peripherals you too can replicate the Techno Gamerz Setup in your own house or can achieve your goal of starting your own YouTube channel as a game streamer.
Read More:
Best Laptop Under 50,000
Best Headphones Under 2,000
TechUnfolded is supported by its readers and when you buy through links on our site, we may earn an affiliate commission. read more