Today a refrigerator is not only an essential appliance of the kitchen but it has also become a luxurious item which almost changes the look of your kitchen by enhancing with their style and elegant designs.
In these modern days, we have many options in the refrigerator. And today we will be discussing the best double door refrigerators which you can find in the Indian market.
Double door refrigerators are not only spacious and good-looking but also come with various smart features which makes them demanding.
They come with a separate compartment exclusively as the freezer section with a separate door, so that it will be easy to access.
So if you are thinking of replacing your old refrigerator with a new double door fridge you can go through the list below.
Best Double Door Refrigerators In 2022
TechUnfolded is supported by its readers and when you buy through links on our site, we may earn an affiliate commission. read more
1. Samsung 324 L Double Door (2020) Convertible Refrigerator
Features
● 324 Litre
● 3 Star
● Elegant Inox
● Weight: 56 Kg
● Toughened glass shelf
● Frost free
Samsung has introduced its new smart convertible refrigerator which can be converted from freezer to fridge. This Samsung smart refrigerator is a fine work of technology.
It comes with a digital inverter technology that automatically manages the compressor speed in response to the cooling demand across seven different levels. With the all-around cooling system, it ensures every inch of the fridge is cooled evenly.
While the Samsung's twin cooling plus feature helps in storing the perishable foods fresh and moist for longer. Moving on the power freeze and power cool feature comes into play when you require faster cooling and freezing.
Be it a family reunion or a chirpy evening with friends ice cubes are always in demand, therefore Samsung smart refrigerator power freeze feature allows up to 31% faster ice making. In addition, its twist ice maker is easy to use.
When it comes to building quality, it has a big bottle gourd and toughened glass shelves which can hold up to 175kg of weight. So, this fridge is smart in every aspect.
Buy Link: Flipkart
2. LG 260 L Frost Free Double Door 3 Star (2020) Refrigerator
Features
● 260 Litre
● 3 Star
● Shiny steel
● Type: Top Mount
● Weight: 53 Kg
● Frost free
On second we have LG GL-I292RPZL 260litre refrigerator. This Frost Free Double Door refrigerator has equipped with some brilliant features and is one of the most sort after refrigerators in the market today.
This fridge is available in a wide range of colors and designs. To begin with, this refrigerator comes with a smart diagnosis option, which means servicing this refrigerator becomes easy, smart and extremely time efficient.
Another trademark feature is the auto smart connect technology that helps in connecting the refrigerator to your home inverter automatically, so when the power goes out the refrigerator switches to the power backup without any manual supervision.
This refrigerator can easily operate high voltage fluctuations eliminating the need for a separate stabilizer. Apart from this, it is an eco-friendly machine that can also run on solar energy by connecting through the UPS and PCUs.
Overall this is a powerful cooling machine that will become an ideal help for your family in no time at all.
Buy Link: Flipkart
3. Samsung 253 L Double Door 3 Star (2020) Refrigerator
Features
● 253 Litre
● 3 Star
● Pebble Blue
● Design: Solid
● Weight: 46 Kg
● Frost free
The Samsung RT28T3453UT/HL will turn out to be a great long term investment for you, as it comes with a 3 star power saving rating which makes it one of the most energy efficient refrigerator.
With the advanced digital inverter technology, it always stays active in the background and automatically adjusts the speed of the compressor to meet the cooling demand of the food inside.
For comfortable operation, it has an easy slide shelf that will let you efficiently store, organize and access your groceries. This also has an all-round cooling system that cools the air evenly from corner to corner to maintain a constant temperature so that your food stays fresh.
The ice maker in this fridge is very flexible too, you can easily twist it and use it. Apart from this, the refrigerator is capable of functioning independently in high voltage fluctuations without any extra stabilizer.
Samsung has also got you covered for any future mishaps, as it comes with a 10 years warranty that gives you true peace of mind during the course of it's run.
Buy Link: Flipkart
4. Whirlpool 265 L Double Door (2020) Convertible Refrigerator
Features
● 265 Litre
● 3 Star
● Magnum steel
● Type: Top mount
● Weight: 56 Kg
● Compressor: Digital inverter
This 265L refrigerator by Whirlpool is a perfect combination of functionality and world-class style, as it comes with amazing features such as adaptive intelligence, IntelliSense inverter technology, zeolite technology and many more.
Lack of space in the refrigerator is always a problem for everyone, but this one really solves it, as the lid of the crisper can be used as the third shelf whenever required.
This refrigerator is equipped with freshonizer which provides an anti-odour action to keep your refrigerator's insides always smelling fresh.
Another interesting feature is its uniform cooling technology since there is a fresh flow tower at the center of the refrigerator which ensures uniform cooling throughout the refrigerator.
With the microblock technology, the refrigerator takes care of the hygiene of your fruits and vegetables by preventing up to 99% of bacteria.
Moreover, you can also connect this refrigerator with your home inverter to let it work even during power cuts. So we can say there's nothing not to love about this refrigerator.
Buy Link: Flipkart
5. Haier 258 L Double Door (2020) Convertible Refrigerator
Features
● 258 Litre
● 3 Star
● Dazzel steel
● Power consumption: 182 kwh/year
● Weight: 58 Kg
● Frost free
Haier, the Chinese brand introduced the Frost Free Double Door refrigerator which comes with sleek and stylish design. This particular model has a capacity of 258 L and has incorporated with latest technologies.
The Haier HEF-25TDS has the 5-in-one convertible system which makes this refrigerator more convenient to use. In order to function efficiently, this unit combined with twin inverter technology to make sure that the fan motor and compressor runs at different speeds to match up the cooling settings.
If we speak about the summers, there are frequent voltage fluctuations that we all have to face, but the good thing about this refrigerator is that it has a stabilizer free operation which can also work at 135V, so it means you can save up on the cost of an extra stabilizer that you buy.
Whereas the PUF insulation on this model helps to keep the temperature low for optimal cooling. Also, this fridge is environment friendly, as it doesn't contribute to ozone layer depletion.
It's a good capacity refrigerator with some very innovative features and huge power savings. All these features make this refrigerator a great choice for your home.
Buy Link: Flipkart
6. Bosch 347 L Frost Free Double Door (2020) Refrigerator
Features
● 347 Litre
● 3 Star
● Metallic
● Type: Top mount
● Weight: 74.32 Kg
● Frost free
The Bosch KDN43VL40I Frost Free Double Door refrigerator is a smart piece of modern technology which is developed very carefully for the Indian consumer. It is spacious, convenient and provides the most user-friendly experience.
This 347 L refrigerator is deployed with VitaFresh technology that controls the humidity in the cabinet so that your food can stay fresh for a longer time.
The Bosch refrigerator comes with intelligent sensor technology that monitors its operation and usage pattern which not only provides efficient performance but also saves your money.
It is equipped with an air fresh filter which prevents the food odour from mixing with another and keeps the taste as fresh as new.
Another unique feature in this model is the holiday mode, it gets activated automatically when the door is not opened for 8 hours and takes care of the food items automatically without any supervision when you are away.
All these features make the Bosch KDN43VL40I the best in the class refrigerator for a perfect Indian household.
Buy Link: Flipkart
7. Panasonic 336 L Double Door (2020) Refrigerator
Features
● 336 Litre
● 3 Star
● Silver
● Power requirement: AC 100-300v
● Weight: 56 Kg
● Frost free
Panasonic manufactures refrigerators to suit all families. This range of Panasonic refrigerator has been thoroughly crafted keeping your family's health in mind that is why it is deployed with an innovative AG clean technology that eliminates bacteria, mold and other harmful microorganisms ensuring your food retains its freshness and nutrition.
Since different food items require different temperature settings and levels of humidity, Panasonic surrounds cooling airflow system is an advanced mechanism that has 5 air ducts or dependent airflows for the refrigerator compartments to evenly cool.
Apart from all these features, this refrigerator comes with Jumbo storage which is the biggest amongst all the other refrigerators in this similar capacity segment. It lets you keep your favorite fruits and vegetables without a second thought.
Also, it has a silver air filter that eliminates 99% of bacteria inside the refrigerator and purifies the air to reduce odours. So, this Panasonic refrigerator will become an ideal help for your family on an everyday basis.
Buy Link: Flipkart
8. Motorola 271 L Double Door (2020) Refrigerator
Features
● 271 Litre
● 3 Star
● Black uniglass
● Uniglass finish
● Weight: 52 Kg
● Omnicool technology
Available in a shiny black colour scheme, this double door frost-free refrigerator by Motorola helps to reduce energy consumption by up to 35% thanks to the 6 step Inverter compressor. With a maximum storage capacity of 271 liters, it is ideal for a small family.
One of its main highlights is its truSmart sensor which continuously monitors the ambient temperature & usage pattern and then automatically adjusts the temperature inside the refrigerator for optimum cooling and saves energy.
While its 360-degree omnicool technology ensures that all sections of the refrigerator get cooled in a uniform way. To keep the vegetables fresh for longer this refrigerator has a humidity control slider which provides more space for more airflow.
The odour kill technology comprises activated carbon with silver ions to prevent the build-up of bacteria by 99%, thereby keeping fruits and vegetables fresh for an extended period of time.
This is an eco-friendly refrigerator that does not require any external stabilizer, as its in-built stabilizer can handle voltage fluctuations in the range of 100-290V.
Buy Link: Flipkart
9. Godrej 260 L 3 Star Inverter Frost-Free Double Door Refrigerator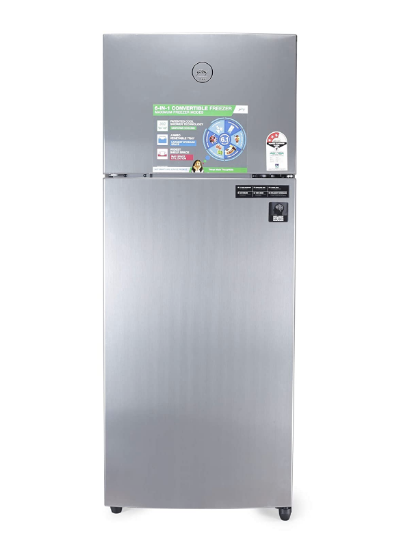 Features
● 260 Litre
● 3 Star
● Steel rush
● Energy consumption: 202 kilowatt
● Anti-B technology
● Frost free
This is another very smart refrigerator and has quite interesting features under its belt. With its smart operation it monitors the usage programs of the refrigerator and delivers enhanced cooling.
Bad odour upon opening the refrigerator after a while can be a real problem, especially during summer, that is why this fridge comes equipped with aroma lock technology which keeps the contents fresh for a long period of time and prevents the generation of bad odour.
While its cool shower technology offers 360-degree cooling for better performance. The Godrej Frost-Free Double Door Refrigerator also comes with a special antibacterial gasket around the door which ensures your food stays extra fresh and it is easy to remove when you need to clean the fridge.
This refrigerator has been designed keeping the grocery shopping requirements in mind, with the 27L of jumbo vegetable tray this fridge ensures you never run out of space to store the vegetables. So, when it comes to utility and intelligence the Godrej 260L Frost-Free fridge is a complete package.
Buy Link: Amazon
10. MarQ by Flipkart 308L (2020) Engineered with Panasonic Technology Refrigerator
Features
● 308 Litre
● 3 Star
● Dark steel
● Toughened glass shelf
● Weight: 56 Kg
● Inverter compressor
The 310JF3MQDS is a 308 L Double Door frost free efficient refrigerator by MarQ by Flipkart. This fridge is an amazing deal in its category taking care of all refrigerator requirements of families of 3-5 members at a phenomenal low cost.
From a design perspective, it is engineered with Panasonic technology and top industry standards in its design and efficiency. This refrigerator comes in an elegant and stylish design.
Keeping with modern aesthetics it has a steel finish blending perfectly with your modern living space. Along with being stylish, this refrigerator is easy to use and maintain by all members of the family.
With a height of 1635mm width of 600mm and a depth of 681mm, this refrigerator occupies less space in your kitchen by providing optimum storage capacity keeping your food fresh.
Apart from all this, the refrigerator is incorporated with many other amazing features such as smart sensor technology, intelligent inverter technology, turbo chill technology, humidity control slider and deodorizer, this refrigerator is designed to provide optimum value and efficiency.
Buy Link: Flipkart
Conclusion:
After reading this article you must have analyzed that the refrigerator has really changed the world. Especially when it comes to double door refrigerators, they have made the process of storing food much easier than before.
They are spacious, user-friendly, energy-efficient and loaded with various latest technologies which not only make our life more convenient but also save our money in the long run.
Some of these refrigerators are convertible which allows you to customize your cooling needs whenever required. So, now get ready to buy the best double door refrigerator which is better than the best.
Read More: