There was a time when people loved to go to the cinema hall and watch movies on a large screen. But over the last few years, things have changed, today television technology has evolved to a great extent.
Now TVs are getting smarter and bigger, bringing the exact theater-like experience to the comfort of your home because of which people don't feel the need to go to the theater.
No doubt the larger screens deliver better viewing, especially at higher 4K resolutions, therefore these days people are more interested in massive 75 inches TVs and also it is worth paying for them as they truly are a sight to behold.
The 75-inch display can actually turn your television set into something that feels like a cinema screen and give you a more immersive experience.
So if you are on the hunt for a 75 inches 4K smart LED TV then you can check out the list below and get yourself the enhanced features, best class video, audio, and mesmerizing episodes all at once.
7 Best 75 Inch TV In India For 2023
Let's check out the TVs below:
1. Sony Bravia (75 inches) 4K Ultra HD Smart LED Google TV KD-75X80J
Key Features
● 75 Inch 4K UHD LED
● Google TV OS
● Dolby Vision & Atmos
● Latest 5 GHz WiFi
● Audio: 5.1 channel linear sound
● Connectivity: 4 HDMI ports, Bluetooth, Wi-Fi, USB, Ethernet
Sony is known for producing excellent TVs, Sony Bravia KD-75X80J is one of its finest examples that will give you value for your money.
It is a 75 inches Ultra HD Smart LED Google TV with 4k resolution that amplifies your TV watching experience. It features an HDR processor X1 technology along with TRILUMINOS PRO technology ensuring the perfect balance of contrast and color spectrum to deliver lifelike picture quality with amazing colors.
Furthermore, it has an X-balanced speaker combined with Dolby Atmos that not only complements its sleek design but also makes you feel you are right inside the scene by letting you enjoy a clear immersive audio experience.
Apart from that, this smart TV safeguards you in four different ways, thanks to the X-protection pro technology that increases its lifespan by preventing dust, averts short-circuits and helps it to remain unaffected during unexpected power surges.
The TV comes equipped with Google Play giving you wide accessibility to a large number of TV shows, movies, games, and much more.
Motionflow XR Technology, built-in Google Assistant, Chromecast, Apple AirPlay support and One-click Netflix Access are also some of its useful features that make the Sony Bravia a worthy purchase.
Check latest price: Amazon
2. Samsung (75 inches) 4K Ultra HD Smart LED TV UA75AU8000KLXL
Key Features
● 75 Inch 4K UHD smart LED
● Tizen OS, 1.5 GB RAM, 8 GB
● Dolby Digital Atmos
● Dynamic Crystal Graphics processor
● Audio: Stereo speakers
● Connectivity: 3 HDMI ports, 2 USB ports, Wi-Fi, USB, HDMI, Ethernet
Place your TV in the hall and turn your home into a mini-theater with a Samsung UA75F8000XL, a massive 4K Ultra HD Smart LED offering an ultimate delight to your eyes.
It utilizes a powerful crystal processor 4K which delivers more lifelike color expressions with the help of advanced color mapping technology.
Besides this model takes things even further with the addition of Motion Xcelerator that automatically estimates and compensates frames to provide you with better picture quality and performance.
Q-Symphony is one of its versatile features that lets the users operate the TV and soundbar speakers simultaneously for better surround effect without muting the TV speakers.
In addition, you can also convert the TV into a quintessential PC and use it for numerous other tasks like mirroring your laptop with it, working from the cloud, accessing files or working on documents using Microsoft Office 365 and much more.
While using the Tap View option you can mirror your smartphone to share the content on the big screen.
Available in 75 inches beautifully designed slim body, this Samsung's latest model will add to your existing decor and elevate the style without taking it over.
Check latest price: Amazon
3. LG (75 inches) 4K Ultra HD Smart LED TV 70UP7500PTZ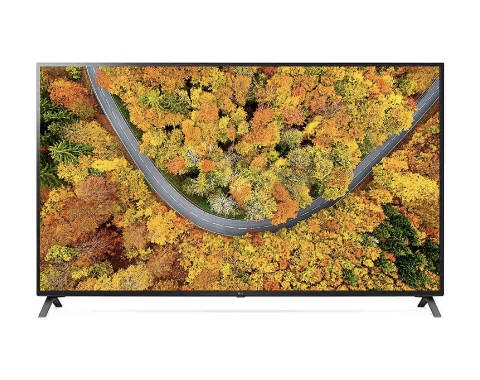 Key Features
● 75 Inch 4K UHD smart LED
● WebOS OS, 1.5 GB RAM, 8 GB
● 20 watts sound output
● LG Graphics Processor
● Audio: Stereo speakers
● Connectivity: 2 HDMI ports, 1 USB port, Bluetooth, HDMI, USB, Wi-Fi
Be it your binge-watching session accompanied by family or a weekend movie night, get delighted with a seamless viewing experience.
The LG 70UP7500PTZ in a classy meteor titanium color and incredibly slim profile is an ideal combination of both elegance and functionality that will enhance your home interior.
This huge 75 inches smart LED TV with a 3840×2160 pixels resolution creates exceptional gaming episodes with four times more pixel accuracy than Full HD.
In order to make TV watching more immersive, inside it equips an intelligent Quad Core Processor 4K that eliminates video noise and creates vibrant images and virtual surround sound.
Additionally, there is a filmmaker mode that helps to deliver the director's original vision so that you can experience the movie the way it was intended to be.
It has a light sensor with smart dimming control that measures the ambient light of your surroundings and then adjusts tone mapping for optimal screen brightness & improved contrast.
Through this TV you can connect with your favorite streaming platforms such as Netflix, Disney+ Hotstar, Apple TV and Amazon prime video to surf all the latest movies, TV shows, live sports documentaries and other exciting content at one place.
Check latest price: Amazon
4. Mi (75 Inches) Q1 4K Ultra HD Smart Android QLED TV L75M6-ESG
Key Features
● 75 Inch 4K UHD, QLED
● Android OS, 2 GB RAM, 32 GB
● 120-hertz refresh rate
● Mali G52 MP2 Graphics
● Audio: Dolby digital Atmos
● Connectivity: 3 HDMI ports, 2 USB ports, Wi-Fi, USB, HDMI, Ethernet
Loaded with an extensive range of latest features Mi L75M6-ESG is a versatile Smart Android TV that ensures you stay entertained at all times.
A 75-inch 4K QLED display has a screen-to-body ratio of about 97% combined with a responsive 120 Hz of refresh rate that provides you with every single detail while watching an action-packed movie, playing a racing game or other fast-paced content.
Because it's a QLED TV, you get the advantage of full-array local dimming on the display, which enhances the color contrast. Besides, it also supports advanced HDR technologies including HDR 10, and HDR 10+ and Dolby Vision giving you a delightful movie session.
To captivate your attention and make you hooked to the content, this set features a Dolby Audio and DTS-HD with Dolby Atmos that takes your video watching or listening experience to the next level.
Apart from that, it boasts Patchwall and Android 10 OS, allowing you to access over 5000 apps & games so that you will never run out of quality content.
The most interesting part of this model is its perfect combination of hands-free Google Assistant and the far-field mics which lets you conveniently operate the TV by simply using your voice.
Check latest price: Amazon
5. Vu QLED Premium TV (75 inches) Ultra HD (4K) Android TV
Key Features
● 75 Inch 4K UHD, QLED
● Android OS, Chromecast built-in
● Motion Enhancement
● Sound output: 45 Watt Output
● Audio: Dolby Atmos & Dolby Digital
● Connectivity: 4 HDMI ports, 2 USB ports, Wi-Fi, USB, HDMI, Ethernet
75QPC, a large 75-inch model from Vu is a modern aesthetically designed television set that comes in a sophisticated charcoal gray color with a front metal frame that not only makes it look stylish but also enhances its durability.
The Tv is powered by a 64-bit Quad-core processor and 2 GB RAM for seamless operations without any glitches. Whereas with the 16 GB of storage space you can smoothly stream your favorite content.
Equipped with Quantum Dot Technology, it controls the multiple backlight zones of the display and thus delivers color-rich visuals according to the content.
The anti-glare screen of this TV aids to reduce the distracting reflections and protects your eyes from glaring bright light.
For gamers, Mi will put you ahead of the game as it features a Game Mode accompanied by MJC settings that helps to adjust motion sequences and reduce input lag allowing you to enjoy seamless gaming every time.
Whereas with the Cricket Mode you will not miss any action and get a stadium-like experience in the comfort of your home.
Further, thanks to its AI Picture Booster that offers self-adaption and complexion adjustment technology to give you more refined picture and audio quality.
Check latest price: Flipkart
6. iFFALCON (75 inches) Ultra HD (4K) LED Smart Android TV (75H2A)
Key Features
● 75 Inch 4K UHD, LED
● Android OS, Chromecast built-in
● 120 Hz Refresh Rate
● Sound output: 30 Watt Output
● Audio: Dolby Atmos & Dolby Digital
● Connectivity: 3 HDMI ports, 2 USB ports, Wi-Fi, USB, HDMI, Ethernet
Elevate your cinema-inspired home viewing experience with a premium iFFALCON 75H2A which packs smart features keeping today's modern desires in mind.
To begin with the display, this huge yet minimalistic TV has an Ultra HD 4K screen enhanced with the latest technologies such as micro dimming, HDR Pro, upscale technology, wide color gamut technology and many others producing great image quality, right intensity, accurate representation, authentic color and perfect contrast for every content.
When it comes to watching movies, TV shows or videos, audio quality is one of the most important factors that matter a lot, and iFFALCON excels in it, as it comes with the best sound system by Harman Kardon, Dolby & DTS and 6 front-firing speakers with 30 W capacity offering authentic sound for your content.
In order to take care of your multitasking needs, there is a Quad-core CPU, dual-core GPU with 2.5 GB Ram and up to 16 GB of storage inside it that together gives you a smooth experience.
Since it's a Google-certified Android TV, you can take advantage of built-in Chromecast, voice search, get immense enjoyment through Google Play, a wide range of entertainment apps and much more.
Check latest price: Flipkart
7. Hisense (70 inches) 4K Ultra HD Smart Certified Android LED TV (70A71F)
Key Features
● 75 Inch 4K UHD, LED
● Android OS, Chromecast built-in
● OS, 2 GB RAM, Mali470MP Graphics
● Sound output: 36 Watt Output
● Audio: Dolby Atmos & Dolby Vision
● Connectivity: 3 HDMI ports, 2 USB ports, Wi-Fi
Hisense 70A71F is another king-sized television set that boasts a sleek shape with slim bezels to complement the decor of your home perfectly.
This highly aesthetic model armed with Dolby Vision cinema technology not only offers bright whites and dark blacks but also enriches the entertainment level by delivering dramatic and captivating visuals.
Plus the different HDR formats support helps to bring the extra kick that simply makes you engage in an immersive experience. As far as color reproduction is concerned, there is an embedded algorithm that offers a broad color spectrum with a 10-bit color depth to exhibit the true beauty of nature without any oversaturation.
For gamers, it has a Game Mode that provides a reduced input lag of up to 16 ms. The machine runs on Android 9.0 OS and has a user-friendly interface making it very easy to customize your home screen with applications from the pre-installed Google Play Store.
Besides it, you can use its Chromecast feature to effortlessly cast your favorite content from your compatible devices.
Moreover, the Hisense's built-in Wi-Fi supports both 5G and 2.4G bands and will let you enjoy a super-fast speed internet across live TV, apps, games and streaming services without any stutter or buffer.
Check latest price: Amazon
Conclusion:
Undoubtedly 75-inch TV not only provides a theater-like experience but also brings varying features along with them that's the reason large TVs are becoming increasingly popular.
Therefore keeping all these aspects in mind the above models are what we think are currently the best you can buy for your home. We have tried to mention each and every point that you should give importance while buying a TV.
We have also given the links of every TV so if you can you can check the price and other details of the unit and purchase the one as per your requirements. Hope you find this article informative.
If you have any queries regarding the topic please let us know in the comment section. And don't forget to share your thoughts, which television set you liked the most or if we have missed any of your favorite models.
Also Read:
Best 4K TV In India
Best Soundbar Under 20,000
TechUnfolded is supported by its readers and when you buy through links on our site, we may earn an affiliate commission. read more