In today's modern and fast-paced world, Internet service is one of the basic and most important services on which nowadays our life depends upon.
Life without the internet is like living an isolated life. For this, it is the broadband connection that offers access to the highest quality internet services and makes our life easier.
Broadband basically refers to any Internet connection with greater bandwidth than traditional dial-up access. We need broadband internet connection at our home, office or everywhere we go.
Since India is the second-largest country when it comes to the telecom industry, there are a huge number of brands providing good internet services. The use of broadband internet connection also increased, as the COVID-19 makes us work from home.
Now everything is being managed online and indoors. Therefore, it has become mandatory to have a fast and stable internet connection.
If we specifically talk about Bangalore city which is known as the IT capital of India, you may find an entire array of internet broadband companies to choose from. But choosing the best one among them can be a task.
Hence, we are here with some of the leading Broadband Service Providers in Bangalore with complete details.
Best Broadband Service Provider In Bangalore
Let's check out the list below:
1. Airtel Broadband
Airtel Broadband, a broadband web service from its parent company Bharti Airtel Limited, also known as Airtel, is one of the oldest Indian multinational telecommunications services that operates in 18 countries across South Asia and Africa.
Founded in 1995 by Sunil Bharti Mittal, it is the best internet provider that provides high-speed internet to its customers.
In its initial stage, Airtel has entered into a technical tie-up with Siemens AG for the manufacture of electronic push button phones, and today with 403 million users, the company caters to fixed-line telephone and broadband services across 93 cities. pan-India.
In terms of price, their plans cover the cost of Rs.499 for 40Mbps broadband speed with a FUP of about 90GB, so affordability-wise, their plan is on a little higher side as compared to other service providers, but it is worth it as their services are great.
So if you are looking for the best high-speed internet service you can check their website and opt for the plan as per your requirements and budget.
Official Site: Airtel Broadband
2. ACT Broadband
Atria Convergence Technologies Limited, branded as ACT, is an Indian telecommunications company that has its headquarter in Bangalore. In 2000, Sunder Raju introduced this company with the aim to give people access to world-class internet services.
Currently, with over 1.80 million subscribers, it is one of the most renowned and fourth-largest cable & broadband companies that offers vast amounts of information at speeds up to 1 Gbps through its optic fiber and Fiber-To-The-Home technology.
In terms of internet plans, ACT Fibernet offers affordable plans that will suit the needs of every user, like entertainment offerings with a wide range of premium content partners and subscriptions, gaming packs that allow you to download games faster.
Apart from that, it also partnered with Yupp Master, an online learning platform with India's top faculty. In fact, in major cities like Delhi and Bengaluru, ACT provides an additional 300GB of data for a period of 6 months.
They have a highly efficient team that is constantly working to improve and increase their range of internet offerings for their customers.
Official Site: Act Broadband
3. Tata Sky Broadband
Incorporated in 2006, Tata Sky is a joint venture between the Tata Sons and The Walt with Temasek Holdings. It is an Indian direct broadcast satellite service provider that makes use of MPEG-4 digital compression technology.
This was the first-ever company to launch multiple products and services that reconceptualize the subscribers' viewing experience in the country. With the Tata Sky broadband connection, you can experience high-speed internet across multiple devices.
In the cities like Bangalore, Delhi, Mumbai and other areas the users can enjoy the fastest buffer-free internet connection, faster HD video streaming, heavy file downloads, and uploads with the speed of up to 1 GBPS.
Their Fibre to home technology offers you fully-dedicated fiber optic with different internet packages and lets you connect up to 10 devices through a professional-grade Wi-Fi router modem. It gives you end-to-end connectivity so that you can get a seamless, consistent internet experience.
The best thing about Tata Sky Broadband is its simplifying and redefining technology which makes it friendlier & more accessible every day.
Official Site: Tata Sky Broadband
4. Jio Broadband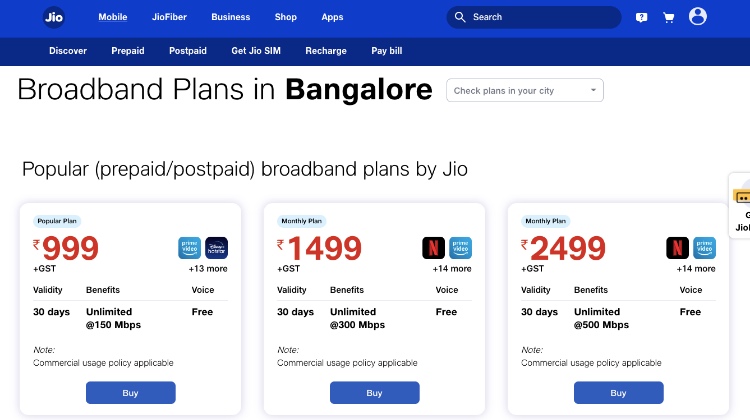 Next in our list is Reliance Jio Infocomm Limited, which has become highly popular among Indian users. There will be no person who is not aware of Jio.
Founded by Mukesh Ambani, it is one of the biggest brands in India and the world that operates a national LTE network with coverage across all 22 telecom circles. The company entered the Indian market 14 years ago in 2007 as Infotel Broadband Services Limited.
But they launched a fiber-to-the-home service, offering home broadband, television, and telephone services in 2019 at very affordable prices. The JioFiber provides you a superior internet experience and allows you to explore Digital Life.
What makes the JioFiber broadband different from other competitors is their ultra-fast upload and download speeds that function in merely 'milliseconds'. 
Official Site: Jio Broadband
5. Hathway Broadband
Hathway Cable & Datacom Ltd, formerly known as BITV Cable Networks, is a Mumbai-based cable television service operator which was founded by Pheroza Billimoria & Roopesh Rao.
In the year 2006, the company launched its digital platform and became India's first-ever company to provide Internet service using the CATV network. Considered to be one of the largest broadband providers, today Hathway is providing high-speed internet broadband services to more than 21 states.
They have a huge range of plans which you can easily check out on the official website of the company. Their lowest plan reaches out to the internet speed of 25Mbps in just Rs. 349.
Also in 2011, the company has been awarded as the largest MSO by the Indian Telly Awards for its quality Broadband Internet Services nine times and Star News Brand Excellence Awards for Brand Excellence in digital products for Internet Services.
In Bangalore, Hathway Broadband provides fiber-optic broadband plans, with the help of which you can stream, share, browse and upload with lightning-fast speed internet without any buffer.
Official Site: Hathway Broadband
6. Spectra Broadband
Established in 2000, under Punj Llyod, Spectra Broadband is a reliable internet connection service that came into existence with a vision to deliver faster internet and fundamentals to solve the problem of broadband in the country, both wired and wireless.
Licensed to provide services to national and international long-distance services across India, Spectra provides its services in Mumbai, Bengaluru, Pune, Chennai, Ghaziabad and Noida.
Powered by FOX (Fiber Optic Xperience), the company claims to offer unlimited broadband with no caps or data consumed and provides a successful unlimited plan with 50Mbps speed, while in Bengaluru the company offers an average speed of 12.23Mbps and a maximum speed of 40.01Mbps.
With Spectra's mesh router, you can experience superior signal strength. For business users, Spectra uses a separate channel called BIA (Business Internet Access) offering metered power.
Spectra Net has also achieved the National Telecom Award for "Innovative Solutions For Mobile Data" in 2012. Its high-speed internet plans at affordable pricing, because of which Spectranet is considered to be one of the leading internet service providers.
Official Site: Spectra Broadband
7. Excitel Broadband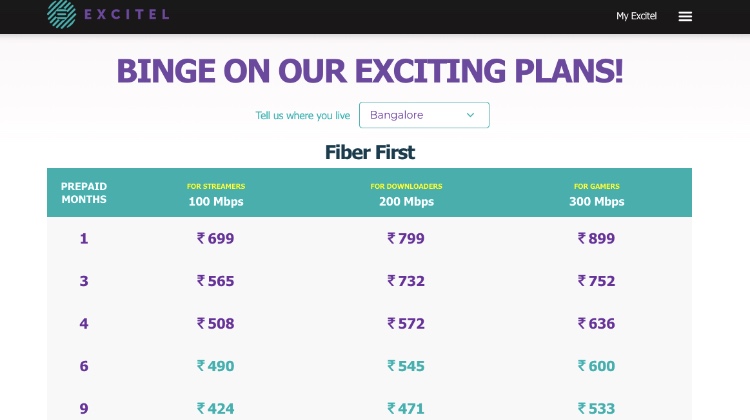 If you are in search of a high-speed internet facility for gaming or streaming then the Excitel broadband service can be your perfect companion. Incorporated in 2015 by Vivek Raina, Excitel Broadband is a trusted internet service provider that has its headquarter in Delhi.
The company has associated with almost all leading Internet service providers and offers retail cable & hassle-free fiber-based Internet connections in many parts of India like Delhi NCR, Hyderabad, Jaipur, Bangalore, Lucknow and Kanpur.
It offers a truly unlimited data plan with no Fair Usage Policy. And currently, Excitel Broadband has more than a 300,000 customer base.
It comes with two Fibernet services- FTTN (fiber to the node) and FTTB (fiber to the building), thanks to their cool network design team which gives you the best internet experience.
With its Fiber net, Excitel delivers ultra-high speeds up to 1 Gigabit/s that is specially designed for your home. In a city like Bangalore, the users can enjoy unlimited internet service with no data limit to hold back their internet speed.
Official Site: Excitel Broadband
Conclusion:
You just went through the list of best broadband service providers in Bangalore, and trust us, these are the top companies that are already offering amazing services at affordable prices.
In these modern times, Broadband internet connection is no longer a luxury, it has become a necessity of our day-to-day life. Nowadays most people prefer to stream online rather than going to the theatres.
Not only residential but the corporate and other industries also start using broadband connections. So if you are looking for a fast-speed internet service for personal or commercial use, you can opt for any of the mentioned broadband services without a second thought.
But you must assess and compare some of the aspects like service quality, monthly rentals, and speed offerings before buying a connection. We hope you find this article informative in terms of choosing the best broadband service provider.
If you still have any doubts you may ask them in the comment section.
Related Post:
Best Web Hosting Provider In India
Best FMCG Companies In India