Selecting the best TV is really a complicated task nowadays as there are plenty of brands available in the Indian market.
It becomes even more difficult when you don't need to do either, compromise on quality or shed a gruesome amount of money out of your pocket. So there is a tiny sliver of hope for you in the form of the best quality TV brand in the market which is also affordable.
Earlier it was effortless to choose because we had only very few brands. So this article is all about the 10 best Television brands which we have selected on the basis of quality, performance, price and many more important aspects.
Best Television Brands In India
TechUnfolded is supported by its readers and when you buy through links on our site, we may earn an affiliate commission. read more
1. Sony
No doubt Sony is on the top of our best television brand list. It's a Japanese corporation, the 5th largest television manufacturer in the world. Sony is one of the premium brands in the Indian market which makes up close to 7% of the market.
Sony has always been the first brand to bring new technologies and the company tries to focus on innovation and technological advancements so that it can improve the overall experience for its viewers.
Sony's smart features, powerful picture processing technologies, build quality is something that makes the brand stand out from its competitors.
Apart from the picture quality and look the brand has also emphasized other aspects like media-streaming interface, voice control features and many more to make your TV more than a watching machine.
2. Samsung
Since 1995 Samsung has capped the Indian market with their modern electronic appliances. And when it comes to television segments it is the most popular and trusted brand. It's a South-Korean based company which is well known for their wide range of smart TVs.
The company has excelled in manufacturing and supplying great quality televisions. Over the years, Samsung has modified its products according to the modern trend and tried their best to satisfy the needs of their customers.
They have QLED, OLED, LED, UHD, FHD and many other Android TVs along with the latest specifications and packs as per the necessary features.
The company produces TVs with every budget range starting from Rs. 20,000 to above Rs. 3,00,000. So you get a variety of options to choose from.
3. LG
LG Electronics, a South Korean company is the second-largest television manufacturer in the world. If we consider its price in the Indian market, the company produces TVs of all budget segments starting from 9,000 and goes up to really expensive ones.
So whether you want an affordable TV, mid-range TV or a lavish one you have a wide range of options. Their TVs are trustworthy and many people in India buy them. The LG TV comes in various screen sizes like led tv 24 inches, smart tv 43 inches, and many more.
The LG machines are mostly known for their great build quality so you don't have to worry about the durability of your TV. Their TVs come with all the latest technologies and specifications which are needed in any of the smart TVs.
4. MI
Xiaomi Corporation is one brand that has gained popularity in just a few years. After the great success in smartphones and other devices, the brand has started selling television in India. The Chinese brand is famous for its super-slim TV which comes with excellent features and the best audio experience.
The company has added many amazing features in their smart TVs like Vivid Picture Engine, high-speed action content, patch wall and the brand also uses blur-free rendering technology so that it can serve excellent visual performance to their customers.
Also, we can say that the trust level in the brand has improved because of their success in the smartphone segment.
5. Nokia
If you want to purchase the latest model smart television set and the price is not a barrier for you then you can go for Nokia which is a Finnish multinational corporation founded on 12 May 1865.
When we think about the "Nokia" brand, the first thing that immediately comes to our mind is mobile, as the company is known for its high-quality smartphones. But in 2019 Nokia has launched its first TV at Rs. 41,999.
Hence, we can say that its pricing is on a little higher side when compared to other competitors but still, the TV has more value.
Nokia has partnered with JBL to provide the best audio quality with the TV and let customers experience clear vocal tones and minimal harmonic distortion.
6. OnePlus
OnePlus is a very big multinational company founded by Pete Lau and Carl Pei. This is a China-based company with headquarters located in Shenzhen on 16 December 2013 and in a very short period of time, it became a very popular television manufacturing brand.
OnePlus has diversity in the types of television sets and offers the following variety- LCD, HD, LED, FHD and many more of various sizes to various resolutions.
OnePlus also believes in power-saving appliances therefore the company has added this feature which can be beneficial in energy saving. Overall OnePlus stands for both style and quality.
7. TCL
If you are looking for the best TV brands in India then your list will be incomplete if you have not checked the latest TCL TVs.
TCL Incorporated as a company started by Li Dongsheng in 1981 in China but the company has expanded and has grown into an electronic giant beyond the boundaries of China. It has proved itself by launching different televisions.
TCL manufactures many products such as refrigerators, AC, washing machines and other products but when we are just discussing manufacturing televisions, TCL sells all TV sets named TCL 6 series, TCL 5 series, TCL 3 series, etc with many amazing features.
8. Motorola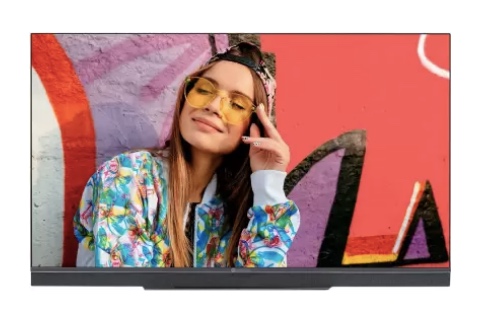 Motorola was initiated in 1928 by Paul and Joseph Galvin as a small electronic company that now became a huge name with employee strengths of more than 55000 people. It's an American multinational telecommunications company based in Schaumburg, Illinois.
First, the company became famous for its smartphones then in 2019 the brand widened its production line by introducing a new product, with its very own Smart TV for the Indian market.
The brand is worth considering when you are looking for a high-quality and durable TV set as the company offers countless features to the customers.
9. VU
Another rapidly growing TV manufacturer is VU, which could be a strong claimant for the best budget TVs in India. VU is an Indian company that was established by Devita Saraf back in 2006.
If we speak about its popularity, it is one of the brands which has made its own unique position in everyone's mind in just 3-4 years. VU has been a disruptive brand that has changed the dynamics of the fast-growing Smart TVs, by its innovation and sales.
When compared to the other brands, VU makes TVs that are very affordable yet premium quality keeping in mind the low-budget consumers which is a great thing about this brand. Vu also provides after-sales support at a reasonable price in case of any inconvenience.
10. Realme
Last but not least Realme, a Chinese brand that was founded by Sky Li in 2018. The company actually doesn't need any introduction as it has already gained a huge name in the Indian market.
Although the company is first known for its variety of products like earphones, T-shirts, bags, fitness bands, smartwatches, etc.
But recently Realme has entered the television segment in India. The brand manufactures excellent television sets that not only offer great picture quality but also are durable as well.
The company first targeted the budget TV segment and has introduced two Android TVs under Rs 25,000, which means the consumer with a low budget can also buy these smart TVs at such a reasonable price and can enjoy a theater-like experience at home.
Conclusion:
We all know that in recent times there are many brands available and many new brands have also entered the Indian market that may lead to confusion in choosing the perfect one.
Therefore, our aim to prepare the above list is to bring clarity to your mind or decision to some extent. All the brands we have mentioned above are very trusted & popular companies known for their wide range of television and provides excellent specifications at an affordable price.
So, you just have to choose the best one from the listed above 10 best Television brands. We hope that we were able to help you out in your buying process.
If you still have any doubts or queries regarding any brand or something then you may leave your questions in the comment section and we will try our best to solve your problem.
You May Like To Read: