Nowadays, the dishwasher has become necessary in everyone's kitchen. When there is no one to help with the washing, a dishwasher acts as an alternative to maids in washing your dishes.
Though a dishwasher is an expensive machine to use but it is worth spending on it, as it saves a lot of time and gives a better result than the manual process.
Best Dishwashers In India For 2022
Hence this time we have brought up the list of the 9 best dishwashers for you from the popular brands which are available in the Indian market.
All these brands provide excellent services with amazing features and are made of high-quality material.
TechUnfolded is supported by its readers and when you buy through links on our site, we may earn an affiliate commission. read more
1. Voltas Beko 8 Place Table Top Dishwasher
Features:
● 8 place settings
● Voltage: 240 volts
● 6 wash programs
● Weight: 25.5 kg
Volta, one of the most trusted brands has brought up a Volta's Beko 8 place tabletop dishwasher in silver color. This compact dishwasher is perfect for nuclear families and is easy to install even in a smaller size kitchen.
It has 8 plate settings that can fit up to 96 dishes at once and 6 wash programs for efficient washing of dishes. The design of this dishwasher allows you to wash a wide range of dishes.
It is equipped with an in-built water heater which heats water up to 70 degrees for effective cleaning.
The user-friendly electronic control with a push touchpad makes it convenient to use. Besides great cleaning performance, with the ProSmartTM inverter motor, the dishwasher also ensures low power consumption.
Check Price: Amazon
2. IFB Neptune FX Fully Electronic Dishwasher
Features:
● 12 place settings
● Voltage: 240 volts
● 5 wash programs
● Water consumption: 12 liter
● Weight: 46 kg
The IFB Neptune FX fully electronic dishwasher comes with exciting features. The dishwasher is available in an elegant white that will go perfectly with any kitchen interior.
It has 12 place settings and 5 wash programs ideal for medium-sized families with up to 5-6 members.
With the LED indicator on the control panel, you can also see the program status. Dishwasher baskets specially designed for Indian utensils you can load almost all types of Indian utensils and crockery in the dishwasher.
With the adjustable racks that fold in baskets, can be shifted and provides full flexibility. Regarding cleaning performance, the heavily soiled program cleans deeply.
This is also one of the best dishwashers that comes with the second highest energy efficiency rating of A++ with an estimated annual energy consumption of about 1-kilowatt hour per load and about 12 liters per load water consumption.
Check Price: Amazon
3. Bosch 12 Place Settings Dishwasher
Features:
● 12 place settings
● 6 wash programs
● Water consumption: 9.5 liter
● Weight: 45 kg
Bosch manufactures a wide variety of high-quality home appliances and they are one of the most selling dishwashers in the world.
The Boss SMD66GIO1I is one of the popular dishwashers in India. It comes with a 12-place setting including a flexible half load and quick wash. When it comes to build quality, this product lives up to Bosch's reputation for well-designed and quality dishwashers.
The best thing about the dishwasher is, it has a salt light indicator and a rinse aid light indicator. This machine offers 6 wash cycles and options to do different types of loads in different ways.
It also has an intensive kadhai wash program that removes stuff stains from the utensils and is perfect for Indian utensils. While the auto cycle option is meant for cleaning dishes of different forms of dirt.
Check Price: Flipkart
4. Bosch SMS66GW01I Free Standing 12 Place Settings Dishwasher
Features:
● 12 place settings
● Power consumption: 1020 W
● 6 wash programs
● Noise level: 52 dB
● Weight: 45 kg
Bosch SMS66GW01I is a german engineering product that is specially made for the Indian markets.
To make your task easy this dishwasher has various different built-in programs. All the wash programs including intensive kadhai wash are designed to keep Indian cooking habits in mind.
Its powerful spray arms along with 70 degrees hot water remove all stains giving your dishes a sparkling shine. This machine is also good news for our environment as it consumes 9 liters of water for each cycle.
Also, the dishwasher is highly energy-efficient and uses only about 1 unit of energy for each wash. It comes with adjustable racks that suit the big Indian utensils like pans, pressure cookers, etc. The plus point is that even your precious crockery pieces are safe to fit in.
Check Price: Flipkart
5. LG DFB424FW Freestanding 14 Place Settings Dishwasher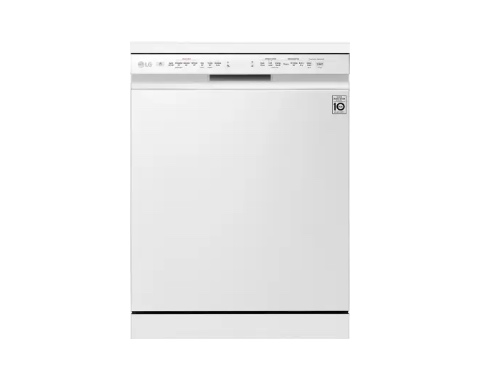 Features:
● 14 place settings
● Voltage: 230 volts
● 6 wash programs
● Noise level: 45 dB
● Weight: 49000 grams
LG DFB424FW dishwasher by one of the world's most innovative companies comes with 14 place settings that let you clean many utensils at one go and save your time. This compact machine is suitable for families with up to 5-6 members.
It has a smart rack system that ensures more space availability and flexibility. The dishwasher is an impressive performer that is quiet, its noise level is just 45 decibels, less noisy than its competitors.
The best thing about this machine is that you can pop dirty dishes directly into the dishwasher without rinsing and the quad wash feature will much to your surprise, the dishes will come out super clean.
The premium display indicates the dishwasher's information which makes it easy to read and follow the features conveniently.
Check Price: Flipkart
6. Bosch 12 Place Settings Dishwasher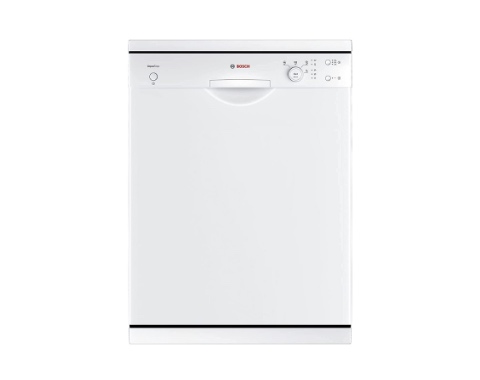 Features:
● 12 place settings
● Water consumption: 14 liter
● 4 wash programs
● Energy consumption: 1.02 Kwh
● Weight: 42400 grams
Bosch SMS24AW001 dishwasher is specially designed for Indian households. It has 12 place settings and can easily fit large and heavy utensils to clean them.
The dishwasher comes with moveable racks that can be moved up and down to accommodate utensils of different sizes.
This compact and light machine comes with 4 wash programs including the express sparkle program which gives you sparkling clean and dry utensils in just 60 mins.
With the power of a dishwasher all you just have to put all kinds of soiled dishes inside the machine and the auto program will take care of the rest.
While the load sensor program automatically adjusts the water usage, temperature and rinse time to give you an optimum wash. This dishwasher also gives you the flexibility to wash half-load if you have few utensils.
Check Price: Amazon
7. IFB Neptune VX Fully Electronic Dishwasher
Features:
● 12 place settings
● Voltage: 240 volts
● Wattage: 2.2 watts
● Weight: 99.41 kg
Neptune VX fully electronic dishwasher is one of the new series of IFB that makes your life easier by guaranteeing clean and hygienic wash of your utensils.
This dishwasher will ensure no breakage of your expensive crockery and gives you the freedom from one of the most boring chores with a single button.
It comes with an in-built water heater that washes and sanitizes your utensils simultaneously at high temperatures. The dishwasher is followed by steam drying that removes the toughest grease stains from your dishes.
Coming to the space of this machine, it has a 12-place setting that can wash up to 96 utensils including cutlery.
It has two separate baskets so no more haggling with the larger utensils as the feature allows you to adjust the height of the basket while loading and unloading. So this deserves to be on the list of best dishwashers in India.
Check Price: Amazon
8. Midea WQP12-5201F Free Standing 13 Place Settings Dishwasher
Features:
● 13 place settings
● Water consumption: 11 volts
● Noise level: 52 dB
● Control Type: Button
● Weight: 39 kg
Midea 13 place setting dishwasher, with the minimalist construction and a silver finish, this freestanding dishwasher offers an unobtrusive facade that will blend in with most kitchen decors.
The interior of this machine can comfortably hold and wash 13 place settings, that allow you to wash up all the plates, bowls and cutlery in a single wash cycle. While the 7 wash programs selected via the easy-to-use control provide a versatile range of operations for every load.
If you want to have your dishes clean when you get home from work then you can set your cycle to run during the day or if you want to take advantage of the Off-peak energy rate you can also operate the unit at night.
The dishwasher is featured with a water leak protection system that protects your kitchen from any water damage by detecting water leakage.
Check Price: Flipkart
9. Faber FFSD 8PR 14S Free Standing 14 Place Settings Dishwasher
Features:
● 14 place settings
● Power requirement: AC 220 V
● 8 wash programs
● Water consumption: 10 liter
● Weight: 15 kg
Faber introduces modern dishwashers for modern Indian families. The breakthrough innovative technology uses 3 spray arms which ensure no corner is left uncovered and resulting in sparkling dishes in 15% less time.
Its versatile design meets the needs of Indian kitchen utensils. This dishwasher has height adjustable baskets that are designed to be flexible to the cutlery needs of different types of food items in our meals.
The machines come with multiple program options including a child lock that ensures your child's safety. With the auto wash feature, it cleans your dishes effortlessly every time.
The best part about this dishwasher is when you run this unit it will do its job silently without any noise, thanks to a maximum volume of 44 decibels.
Check Price: Flipkart
Conclusion:
In the Indian market, there are hundreds of brands with different functions and operating systems. The price varies with the model and design of the dishwasher machine.
Therefore, before purchasing a branded dishwasher, you will need to consider various accepts like brand and quality, size, washing programs, etc. And in our above list, we have tried to cover all these points.
I hope the above information will be enough to choose one of the best dishwashers for better wash results. If you have any doubts or suggestions, do let us know in the comment section below.
Related Post: