Chromebook is an excellent solution for students struggling in the classroom as well as business proposes. They have unlocked a boundless world of educational tools that anyone can use.
These laptops are compact and lightweight yet packed with quite a lot of power to get your day-to-day jobs done which makes them a great choice for those who want to get their lightweight tasks to get done without spending a lot of money. Chromebooks are like modern-day classrooms.
Instead of drawing on chalkboards, writing journal entries in a notebook, or finishing tests & assignments on paper, students can utilize these Chromebooks to do all their important tasks.
Powered by Google's Chrome OS, these laptops come packed with plenty of useful applications and features to always keep you synced with work and improve productivity.
There are a wide range of Chromebooks available on the market boasting different specs but choosing the best one among them is a difficult task.
Therefore in order to help you out in your decision process, we have listed the 7 Best Chromebooks:
7 Best Chromebooks In India
Let's have a look at the list below:
1. HP Chromebook x360 Touchscreen Laptop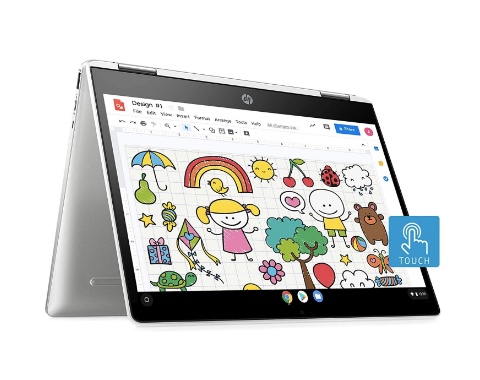 Key Features
● Display: 12 Inch micro-edge Touchscreen
● Processor: Intel Celeron N4020
● Graphics: Intel UHD Graphics 600
● Ram & Storage: 4 GB/ 64 GB
● Colour: Natural Silver
● 1.35 Kg
Introducing the HP Chromebook x360, a beautifully crafted laptop that combines premium aluminium with an amazing set of specs to enhance your workflow.
Under the hood, it packs an Intel Celeron processor, 4 GB ddr4 RAM combined with up to 64 GB of storage space to complete your everyday tasks like work on presentations, play high-u games, etc.
It features a gorgeous 12-inch micro-edge display that lets you enjoy the content in a much wider area. From an appearance perspective, this foldable Chromebook comes in a natural silver making it look classy, whereas its aluminium chassis helps to prevent it from chipping off the material.
The HP Chromebook x360 equipps bang & olufsen audio system delivering 3D surround sound experience. In terms of safety, the Chromebook is protected by multiple layers of security to provide a safeguard against malware and viruses.
It also supports Google Assistant to control the home devices with the voice. Further, it includes a pen featuring a magnetic dock allowing you to paint or doodle with perfection unleashing your creativity.
Check Price: Amazon
2. Samsung XE350XBA-K01US Intel Celeron Processor Chromebook
Key Features
● Display: 15.6 inches FHD
● Processor: Intel Celeron N4000
● OS: Chrome OS
● Ram & Storage: 4 GB/ 32 GB
● 10.5 hours Battery Life
● 1.72 Kg
Evolved for modern education, the Samsung XE350XBA-K01US is a versatile machine which is engineered to improve productivity, share ideas, and lets you stream, work, create, and play on a fast, secure device without any hassle.
Featuring an Intel Celeron processor, it comes with 4 GB ddr4 RAM and 32 GB of SSD which is efficient to complete your everyday tasks easily. This Chromebook has a large 15.6-inch display letting you interact in a super-easy way and ensuring you immerse yourself in the content you love.
Made from premium materials, it packs a 39-watt-hours battery that offers 10.5 hours of long standby time. This all-new lightweight laptop meets military-grade durability, which means that it can easily handle bumps, shocks and temperature changes.
Bolstered by multiple layers of built-in virus protection, the Samsung XE350XBA-K01US makes sure all users have a baseline level of required protection.
Overall it's a compact-sized laptop that is the perfect choice for students who want to improve their education.
Check Price: Amazon
3. Acer Chromebook 315, Touch Display Laptop
Key Features
● Display: 15.6 Inch FHD IPS Touchscreen
● Processor: Intel Celeron N4000 Dual-Core
● Graphics: Intel UHD Graphics 600
● Ram & Storage: 4 GB/ 32 GB
● Colour: Natural Silver
● 1.80 Kg
Enhance your everyday workflow with Acer Chromebook 315, a portable, powerful and fun laptop to help you on your next business trip.
This 15.6-inch full HD multi-touch widescreen LED-backlit IPS display with an 88-degree wide-angle lens supports HDR technology delivering immersive visuals.
From a specs point of view, this Chromebook has an Intel Celeron N4000 Dual-Core processor, 4GB On-Board LPDDR4 Memory along with 32 GB HDD for offline access and keeps your most important photos, videos and other files in one place.
This laptop comes pre-installed with all the Google apps you love and need to edit, download, and convert Microsoft Office files in Google Docs, Sheets and Slides so that you can complete all your college assignments or official work efficiently.
Additionally, you can access over 2 million Android apps from Google Play. The Acer Chromebook 315 is only 0.8 inches thin and weighs 1. 63 kg, making it extremely light in weight so that you can carry it on your travels without any hassle.
Check Price: Amazon
4. ASUS Chromebook Intel Dual Core Laptop
Key Features
● Display: 15.6 Inch HD Nano edge
● Processor: Intel Celeron N3350 Dual-Core
● 180 Degree Hinge
● Ram & Storage: 4 GB/ 32 GB
● Colour: Silver
● 1.42 Kg
Tough and durable, ASUS Chromebook is a versatile laptop that comes with a superior design. Featured with 15.6 inch HD anti-glare NanoEdge display with a screen resolution of 1366×768 and an ultra-narrow bezel, this Chromebook not only allows you to maximize your viewing comfort but also reduces the annoying reflections ensuring you experience the best images.
Whereas its durable 180-degree hinge helps the machine to lay it flat to prevent any accidental breakage from over-pushing the screen or over-opening as well as share content easily.
Available in a premium silver finish, the ASUS Chromebook runs on Chrome OS and is powered by the Intel Dual-Core Celeron N3350 processor which can be configured with 4 GB LPDDR4 RAM to elevate your computing experience.
In terms of internal space, it has 32GB eMMC storage facility satisfying all your keeping needs. It also packs multiple ports like USB Type-C and Type-A ports to let you connect the laptop with external devices and transfer apps, games, music, movies, and more.
Check Price: Amazon
5. HP Chromebook 14 N4020 Touchscreen Laptop
Key Features
● Display: 14 Inch HD Touchscreen
● Processor: Intel Celeron N4020 Dual-Core
● Stereo Dolby Atmos
● Ram & Storage: 4 GB/ 64 GB
● Colour: Silver
● 1.46 Kg
When looking for a Chromebook laptop, the HP Chromebook 14a-na0002TU can't be ignored as it is an impressive machine packed with all the latest hardware and software.
Integrated with a 1.1GHz Intel Celeron N4020 processor, 4GB DDR4 memory and 64 GB eMMC internal storage that can be expanded up to 256GB, offering a responsive performance. Crafted to boot in under 10 seconds, the laptop always keeps itself updated in order to provide exceptional performance when needed.
Apart from delivering excellent productivity, this Chromebook also has a long-lasting battery life ensuring it helps you push through those work-laden days without any fuss.
To take care of the viewing and listening demands, this 14-inch laptop comes in-built with stereo speakers that have been tuned by the giants of the audio industry – B&O.
Through this laptop, the users can download and access all their favorite apps from Google Play such as YouTube, Google Drive, WhatsApp, Gmail, Evernote, Slack, Infinite Painter, Lightroom, MS Office, and many more.
Check Price: Amazon
6. Lenovo Chromebook 14e TouchScreen Laptop
Key Features
● Display: 14 Inch FHD Touchscreen
● Processor: AMD A6- 9220C
● Graphics: AMD Radeon R5
● Ram & Storage: 8 GB/ 32 GB
● Colour: Mineral Grey
● 10 Hours Battery life
Get more tasks done anywhere anytime with the lightweight Lenovo Chromebook 14e that offers many unique features.
Covered with a stamped aluminum shell, the Chromebook comes in a 14.0-inch full HD IPS display along with 10 point multi-touch screen panel to deliver more vibrant image quality that too without straining the eyes, thanks to its anti-glare technology.
To give you a more responsive and comfortable typing experience, the laptop is combined with a full-sized keyboard including a sealed touchpad to resist spills of up to 1.39 cups 330 ml.
If we take a look at its build quality, the Lenovo Chromebook 14e has military-grade durability and is MIL-SPEC tested to withstand bumps, knocks of daily life and even being dropped from up to 29.5 inches.
There is a front-facing 720p HD camera on the top portion with two microphones to make chatting and videoconferencing a breeze.
From a performance perspective, it runs on Chrome OS and has an AMD A6 processor to handle everything smoothly.
Check Price: Amazon
7. ASUS Chromebook Celeron Dual Core Laptop
Key Features
● Display: 14 Inch HD Anti-glare
● Processor: Intel Celeron Dual Core N3350
● 200 Nits Peak Brightness
● Ram & Storage: 4 GB/ 64 GB
● Colour: Silver
● 1.20 Kg
Satisfy your desire with the ASUS Chromebook, a sophisticated laptop with a slim and elegant design that will blend perfectly with your workstation.
Inside, it has an Intel Celeron Dual Core N3350 processor, 4GB LPDDR4 RAM & 64GB of emmc storage which enables it to accomplish day-to-day tasks without any interruption.
While most laptops run on the popular Windows operating system, the ASUS Chromebook runs on a Chrome OS which is web-based and is a skinned version of the Chrome browser.
Featuring 14 inches HD anti-glare display with 200 nits of brightness and 78% screen-to-body ratio not only gives you a wider viewing area but also shows more immersive visuals.
Whereas its trading metal design provides strength and durability. In addition to premium design, it has a multi-gesture touchpad that lets you conveniently operate the laptop.
The multiple slots like 2 x USB 3.2 Gen 1 Type-A, 2 x USB 3.2 Gen 1 Type-C, Bluetooth and 802.11ac wi-fi allow you to easily connect external USB devices for data sharing and management.
Check Price: Amazon
Conclusion:
Buying a Chromebook is beneficial in many ways, it delivers you fast & powerful performance, allows easy access to many useful applications via Google Play, provides great portability, and many more advantages.
Hence Chromebooks are worth considering if you are in need of a daily laptop and most of the time, you're using it in tablet mode. Because of this simplicity, the Chromebook uses less-powerful hardware than many Windows laptops, without affecting the overall performance.
We have tried to consider all the factors that need to be taken care of while choosing the best one. Therefore all the Chromebooks mentioned above are of excellent quality and offer great performance.
We hope you find this article informative and that you will be able to get the most suitable Chromebook for you. If you still have any doubt or confusion you can leave your queries in the comment section.
Also Read:
Best SSD Laptop In India
Best Laptop For MBA Students
TechUnfolded is supported by its readers and when you buy through links on our site, we may earn an affiliate commission. read more