Video editing has become easier over the past few years, especially for filmmakers and creatives who seek an easy and fast process of delivering high-quality videos.
The software tends to manage the post-production video editing, yet some also provide the ability to make short video clips.
With the various editing software tools available, the best tools are built to make tasks such as applying filters, masking simple and trimming.
So, read on for some of the best video editing software available at free of cost:
Best Free Video Editing Software of 2022
Now lets have a look at the list below:
1. Blender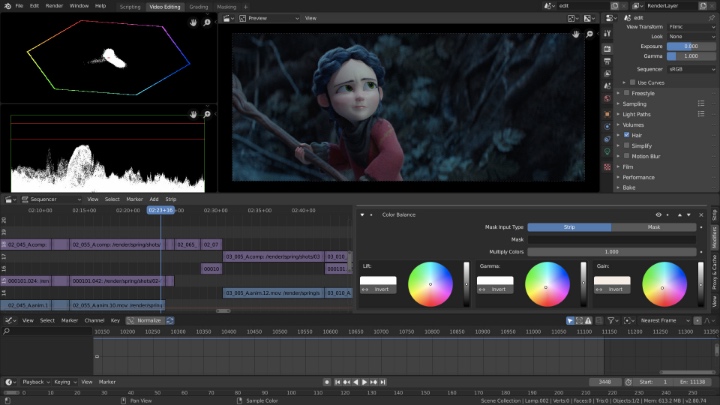 If you are searching for free video editing software for Windows, then you will surely need to try Blender. Blender is an open-source video editor and 3D computer graphics software, but with this, you can also edit your videos. If you want to make a Doodle video, then you can use this software for that.
Blender includes features like the transition, keyframes, audio mixing, live preview, and you can also add up to 32 slots for adding the audio, video, mask, images, effects and more.
Blender needs at least 2GB RAM, graphics card with 512GB RAM, 1280X768 display and you can use a blender in the windows Vista, Windows 8, Windows 10, etc.
Blender provided you with very limited video editing options and very limited resources are available to learn video editing with a blender but if you want you can check out this exciting ultimate blender tutorial.
Check out the official site: Blender
2. HitFilm Express
HitFirm Express is the best professional video editing software for windows. It gives you features like Audio Hard Limiter, 3D Video Support, Keying, Unlimited tracks, Audio Mixer, green screen, and much more.
This software needs windows 10 64 bit or windows 8 64 bit and with a minimum RAM of 4 GB, with a 2 GB graphics card to run without any lag.
This video creation software gives you the power to make something cool and awesome, but HitFilm is an advanced video editing tool, that you can easily learn even if you are a beginner using video training.
Check out the official site: HitFilm Express
3. DaVinci Resolve
DaVinci Resolve is another great featured best free video editing software for the Windows OS. The features of the Davinci Resolve include advanced color correction, speed effects, timelines cure editor, Multicam editing, and more.
This is the most advanced software, and DaVinci is used to make the Bollywood and Holywood movies too. This software requires 4GB of Graphics, 16GB of RAM, and works on the Windows OS.
Check out the official site: DaVinci Resolve
4. ShotCut
At first sight, this software looks a little bare, but once you play around with it, it reveals a treasure trove of tools. One of the more high-end free programs, ShotCut's latest release features an impressive new mask, sketch, and audio visualization features.
Have a play around and see what you can do; trimming your videos is almost effortless free in this software. Few free packages provide as many editing options that create such a professional product.
Check out the official site: ShotCut
5. Lightworks
Lightworks is one of the oldest and most advanced video editors. The software is a popular choice for many professionals.
It has feature-rich, with a user-friendly interface that appears unique to other video editors. The features include easy timeline trimming and editing, along with access to free video and audio content.
Lightworks supports all the major OS, which includes MacOS X, Linux, and Windows. The free version includes the export of around 720P and Multicam support.
Check out the official site: Lightworks
6. InVideo
InVideo is online software that has seamless inventive video creation services. It helps marketers, entrepreneurs, agencies, alternative tiny businesses to make professional-looking videos with ease.
InVideo works with associate intention to form video creation in a simple and frictionless method. It is the world's easiest video creation platform that'll enable you to turn your ideas into gold-standard videos in mins, even if you've never edited a video before for less than $10/month.
It has 4000+ fully customizable templates covering every major use-case or industry + pre-built elements in our asset library such as CTAs, stickers, and overlays + an in-built library of 3M+ stock images, video clips, and music to make sure your videos look out of this world.
It also offers an associate automatic text-to-video feature that you will use to make videos for your articles and diary posts or tell a story through your content.
Check out the official site: InVideo
7. VSDC Video Editor
VSDC offers a free non-linear video editing tool that allows the users to scenes in any position on the timeline.
It appears quite different from the other free editions as it offers multiple visual and audio effects that can be applied from the different categories such as object transformation, transition effects, color correction, filters, and special FX.
VSDC also provides blending filters and modes that are much more similar to Instagram filters. It also has an easy 4K and HD export to social media channels sites such as Twitter, Facebook, and YouTube.
Check out the official site: VSDC Video Editor
8. FlexClip
FlexClip is an AI video editing tool that allows you to edit videos without spending hours hunched over your computer, pressing play, and pausing. You can import your video and use one of their templates or edit somewhat from scratch without the headache standard editing gives you.
Whether you're looking to edit a simple video to share with friends and family, or you're a brand or business looking to edit and customize videos to share with your audience and customers – FlexClip allows you to do that easily with their seamless process.
They have an extremely easy-to-use interface and thousands of added features to edit your video to perfection – without spending hundreds of hours editing or using an overly complicated tool.
Features:
Trim your video to the desired length.
Merge multiple videos and create transitions.
Turn your video into a GIF, remove the background, or add a filter.
Check out the official site: FlexClip
9. OpenShot
The best part about Linux is that most of the software available for the Linux OS is free and open source. So, if you are just getting started with the OpenShot, then it can be a very good option for you. OpenShot is a great video editing tool.
Its interface is easy to use and clean to get around and is backed by a great set of professional video editing tools which includes video effects, animations, 3D rendering, keyframes, and more.
Check out the official site: OpenShot
10. Adobe Premiere Pro (Paid)
When it comes to video editing software, Adobe Premiere Pro is the first one that you will hear and that too for good reasons. Think of a feature, any feature that you might need in a video editing software, and I bet that Premiere Pro has it.
This video editor is not only powerful but also has a familiar and clean interface. But, the best part about the Adobe Premiere Pro is the ecosystem that this software supports. Every other tool that Adobe offers you connects seamlessly with the Premiere Pro.
No matter whether you are using Photoshop for image editing, Adobe Audition for audio editing, After effects for animations, everything plays nicely with the Premiere Pro.
Check out the official site: Adobe Premiere Pro
Also Read:
10 Best Apps To Create Instagram Stories
10 Best Job Portals In The World