Who doesn't love to play games, whether it's on PC or on a console like the XBOX or PlayStation, playing games has always been satisfying to everyone. One of the main reasons why you should invest in a gaming headset is the sound quality.
Gaming headsets are designed in such a manner that you can wear them comfortably for long hours, also to deliver crystal clear audio and reduce unwanted background noise too.
So in order to team up with your partner, win the game and enjoy the gaming sessions to the full extent you will need a good quality headset to aid you in your efforts.
Besides gaming headphones have great importance as without the audio life will be colorless. We all are surrounded by a broad range of digital media, wherever we go, we need to have the resources to appreciate this sound.
Headphones are one of those resources that are better capable of granting excellent audio outputs which are unparalleled to any earphones.
Though the high-quality headsets available in the market are expensive you can still find some great ones that aren't too pricey.
So to help you out we have put together a list of the Top 7 best gaming headphones that are affordable to get and produce quality sound to elevate your gaming experience.
Best Gaming Headphones Under 1000
Now let's explore the list below.
1. Redgear Cosmo 7.1 Wired Over-Ear Headphones With Mic
Dive deeper into the game and immerse yourself with crystal clear audio by using the Redgear Cosmo, a gaming headset that is designed specifically for the latest console gamers and offers outstanding sound quality and a superb level of comfort.
When you play your favorite game with these headphones, you'll feel the force of an explosion and hear enemy footsteps from all directions, thanks to its virtual 7.1 surround sound that helps you hear every detail and provides you with more captivating gaming fun.
This headphone also features an inbuilt noise-canceling microphone, that ensures quick and steady communication. Whereas its in-line audio control lets you adjust the LED effect, microphone and volume without pausing your game.
Apart from that, the closed ear cup design of the headset helps to block the ambient noise and allows you to stay focused on your games providing you optimal comfort for long gaming sessions.
So buy this exceptional pair of headphones that thrive on amazing audio performance and level up your gameplays.
Check Price: Amazon
2. Cosmic Byte GS430 Gaming wired over-ear Headphone with Microphone
Increase your online gaming skills with the Cosmic Byte GS430, an ergonomically engineered headphone that offers long hours of aggressive gaming, comfort fit and excellent performance.
Built with an amazingly flexible and auto-adjustable headband and filled with soft & comfortable memory foam, this headphone is super comfortable to wear without any irritation.
What makes the Cosmic Byte GS430 stand out from the regular headphones is its ability to produce 3D gaming sound which is very much important in games like Fortnight, PUBG or CS: go, etc.
This allows you to give your 100% focus to the game making the game more intense. It also comes with a 7 Color RGB lighting effect letting you add lights to your gaming setup and flaunt it in style.
Whereas the in-built microphone with passive noise cancellation not only reduces the background noise but also offers clear communication with your teammates.
The headphone has multi-platform compatibility, which means you can connect it with your PC, laptop, Playstation, Xbox, Mac, iPad, tablets and mobile phone.
Check Price: Amazon
3. boAt Immortal IM-200 7.1 Wired Over-Ear Headphones with mic
Bring gaming audio to life with the boAt Immortal IM-200, a USB gaming headphone that is exclusively crafted for PC. It also includes a securely braided cable ensuring hassle-free extended usage.
Equipped with 7.1 channel virtual surround sound, it allows you to experience accurate positional audio when gaming so that you can pick up the direction of where the action is coming from. Built with a lightweight form factor, this headset only weighs 350gm.
While its over-ear industrial design accompanied by super soft earmuffs gives you a cozy listening time.
Moreover, the intelligent denoising mic is enhanced with ENx technology that helps in delivering your voice unhindered so that your squad and you can stay in tune irrespective of the geographical distance.
This stylish headphone with a subdued look comes available in 7 different cool colors- active black, white sabre, raging red, Vipre green, phantom blue, furious blue and black sabre giving you a wide range to match your personality.
Overall it's a great gaming headset you'll love to use as your daily headphones.
Check Price: Amazon
4. Redgear Cloak Wired Gaming Headphones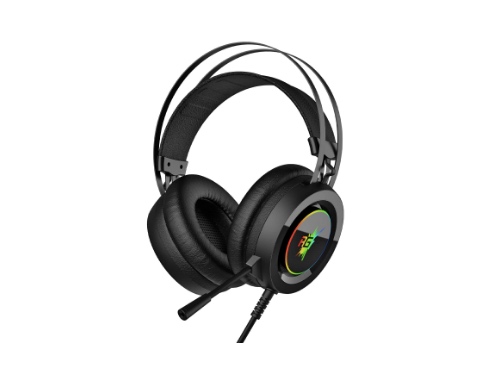 Redgear Cloak is a powerful gaming headphone that can take your gaming fun to the next level. Equipped with a 50mm driver and enhanced audio bass, this headphone delivers rich and immersive sound quality which dramatically improves your in-game sound experience.
Furthermore, it comes in-built with an Omni-directional microphone calibrated specifically for clear gaming communication which you can use as per your gaming situations.
In terms of build quality, the Redgear Cloak is made using luxurious noise-isolating memory foam ear pads and an adjustable split headband that not only helps to reduce pressure but also provides optimal comfort for long gaming sessions.
Apart from comfort, this headphone also features an amazing RGB LED light effect on the tip of the microphone and ear-ups. Whereas the intuitive control buttons allow you to quickly regulate the volume or mute the microphone.
To conclude the Redgear Cloak is a super light and comfortable headset that will perfectly fit all head & ear shapes and go great with your PC and all your consoles.
Check Price: Amazon
5. Cosmic Byte H11 Gaming Wired Headset with Microphone
Get incredible comfort and durability on your long hours of gaming or streaming with the Cosmic Byte H11, an ideal headphone for those hardcore gamers who are on a hunt for superior sound quality, comfort and added convenience.
With its 40mm driver, guarantees you hear your game and your enemies with clarity and precision. It is fully tuned for gaming headphones with immersive and accurate audio especially designed for a handful of games like Sekiro: Shadows Die Twice and Apex Legends which have their own optimized profiles.
In addition, it comes with a volume roller which gives you complete control over your game audio experience and makes it easy to access.
Plus its adjustable headband is built to last through your countless victories, while the flexible microphone adds to your convenience.
The Cosmic Byte H11 has wide compatibility, you can connect it with your PC, smartphone, tablets, PlayStation and Xbox. With all these amazing specs, Cosmic Byte H11 is a great headphone to be considered.
Check Price: Amazon
6. Kotion Each Wired Over the Ear Headsets with Mic
Wearing headphones while streaming games and experiencing the excitement of being within the game because of high-quality sound is an outstanding feeling that all gamers cherish, and the Kotion Each G2000 provides you with such a sensation.
It's a premium quality headphone that boasts a bounty of remarkable features to let you enjoy a wonderful gaming experience. The large high precision 50mm magnetic neodymium driver that delivers a vivid sound ensures that your games sound fantastic and lively.
It comes embedded with Light Emitting Diodes on the top and side-by-side giving the headphone an exuberant look.
From a design perspective, this lightweight and comfortable headphone boasts an exquisite design and is made of premium materials making it a perfect device for all-day listening.
Apart from the premium look and excellent sound quality, what makes the Kotion Each G2000 distinct from its competitors in terms of agility too, as it allows users to freely adjust the size of the headphones according to the size of their head to attain the best results.
Check Price: Amazon
7. Ant Esports H1100 Pro RGB Wired Over-Ear Gaming Headphone with Mic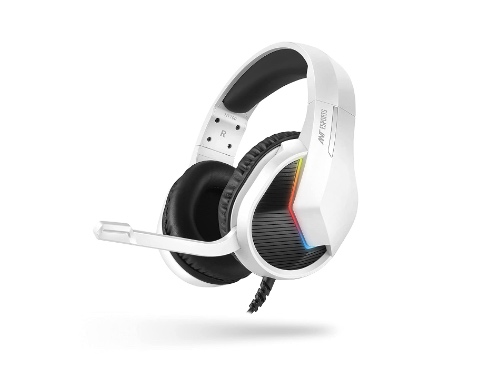 Enlighten your gaming world with Ant Esports H1100 Pro, a 50MM over-ear superior quality headphone that offers a crystal clear and mesmerizing audio experience.
Enhanced with durable memory foam earpads and 3D round draping earcups this headphone keeps pressure off your ears and maximizes the pleasure during your gaming time.
Using this headphone you can witness more accurate, clear and smooth audio, thanks to its high sensitivity microphone that comes in-built with the device. Moreover, it's a luxurious lightweight and self-adjusting head beam design.
Furthermore, there is a glaring LED RGB that allows the earcups to illuminate and suit the gaming environment. The customizable volume control button or microphone on-off button lets you make adjustments while gaming without being distracted.
Besides it includes a 3.5mm jack so that you can connect it with various external devices like XBOX, PS4, Nintendo, MAC, PC & mobile.
So if you are one who wants to feel like you are right in the middle of the action, then the Ant Esports H1100 Pro is the one for you.
Check Price: Amazon
Conclusion:
There are a few factors or things that need to be considered when choosing the best gaming headphones under 1000, and we have tried to cover all those points in our reviews.
In the above part, we have reviewed the features of the best gaming headphones available in the Indian market. However, gathering the list of the best ones among so many options was a very challenging task.
We have also attached the link below every product. If you want you can check all the details and prices of the products as well as buy the headphone using that link. We hope you find this article informative.
If you still have any doubt, confusion or queries regarding the topic feel free to ask in the comment section. And let us know which one is your favorite.
Also Read:
Best Laptop With Ryzen 7 Processor
Best Mic For YouTube In India
TechUnfolded is supported by its readers and when you buy through links on our site, we may earn an affiliate commission. read more