If you want to stay in touch with your friends and family, then a video calling app is a must-have application for your phone. You can do video calling for free without spending money, just you should have a good internet data pack on your mobile.
Video calling apps even allow you to call anyone within your county or outside of the country (International calls) face to face over internet data. Most of the video chat apps also come with voice calling and text messaging features.
Below We have listed some of the best Video calling apps or video chat app that allows you to connect face-to-face with your friends and family members.
Best Video Calling Apps
Let's move further and check the list below.
1. WhatsApp (FREE messaging and video Calling App)
Being one of the most popular and favorite messaging apps, WhatsApp is eligible to be on the top of the list of video calling apps. It is cross-platform, and the users make millions of video calls per day across the globe on iOS, Android, and Windows devices.
The calling feature is straightforward and has minimal hurdles for the users, just open the contact you want and click on the video call button to get started.
Download: Android App / iOS App
2. Facebook Messenger (Text & Video Chat for Free)
Facebook Messenger is trendy, and the app is even trusted by a wide range of users. It is available free of cost for Android, iOS, and also with any web browser logged into your Facebook account.
Facebook Messenger is pretty easy to use. You can get connected moreover you want; send a text message or start a video choice, the choice is all yours.
There is so much so that you can do with Facebook messenger, such as sending emojis, making group video calls, GIFs, and stickers, capturing the videos and photos with the fun effects and art, playing games, etc.
The Messenger also lets you keep track of the chats with some other users, and you can even make reservations, check on others, or even use it for a business purpose.
Download: Android App / iOS App
3. Zoom (Video Conferencing App)
A free video conferencing tool, Zoom is there to cater to business needs. With a cloud-based platform, Zoom allows companies of any size to hold video conferences, webinars, online meetings, group messaging, and even brainstorming sessions with the whiteboard.
The tool can accommodate around 200 participants and offers HD video and audio calls. Moreover, the basic version is available free of cost; they offer the paid versions with advanced features.
The webinar functionality is the highlight of this video conferencing app. Users can share their screens, images, audio files, and send text within the group chats and also record their visual meetings for future reference.
Download: Android App / iOS App
4. FaceTime (Free video and audio calls)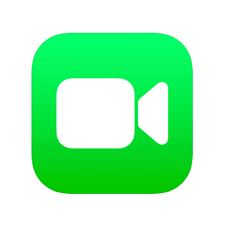 FaceTime is another application that was originally designed for mobile platforms but has now successfully incorporated features that afford users unlimited video talk with their personal computers.
The app makes use of your PC's built-in cam software. FaceTime prides itself on delivering excellent video feeds when calling smartphones from your PC.
It does not matter whether the receiver is making use of their front or rear camera; you can even trust FaceTime to adjust and deliver excellent views automatically.
Download: iOS App
5. WeChat (Video Chat and Messaging)
WeChat is one of the better-known free group video chat apps. The program is available on Mac OS and Windows PC as well on smartphones.
When you install the WeChat software, then you can easily connect with other WeChat with the help of chats and video calls. Whenever you are logged in on the WeChat website, the app would no longer send your notifications to your doorstep.
The inability to seamlessly sync the mobile application allows the transfer of files from one user to another.
Download: Android App / iOS App
Read More: Best Dating Apps
6. Google Duo (Simple Video Calling App)
If Apple came up with FaceTime, then Google replied with the Google Duo. It has the edge over FaceTime as it's a cross-platform app, which means it can work on both Android and iOS.
All you need to do is to download the app, and it will verify your phone number before you can start using it. Duo fetches your contacts automatically and shows you that who all have the app installed on their device.
Simply click on the relevant contact name to place a video call. It also comes with a unique knock-knock feature that allows the person on the other end to see your video even before the call is answered.
Download: Android App / iOS App
7. Skype ( Free Video Calls, Messaging )
Skype is a free Android video chat app that has more than 1 billion downloads on the play store. It is a cross-platform tool that has its native apps on most platforms, which include the PC.
The Android app is not that as good as the desktop application, but it comes with various features. You can make video calls to a group of around 25 people. It also features a voice message, free text chat, sends photos, emoticons, and emojis, etc.
It comes with the integration from both the Microsoft and Facebook accounts. However, you can also call regular cell phones and landlines in a nominal amount. Skype does not compromise on call quality, so it consumes more data compared to some other apps.
The app still needs notifications, but the service itself is about as excellent as it gets. There is a pretty good chance your both family and friends are already using this application.
Download: Android App / iOS App
8. Imo (Free Video Call And Chat)
IMO, which is more popular in third world countries, the USP for the IMO lies in the fact that it adds the 2G and 3G networks, thus help out users with slow internet plans and not so advanced smartphones.
It is not only available on iOS and Android but also available on Windows PC. Look forward to the seamless visuals as this video calling application supports high-quality audio as well as video. Not to forget that you can share files such as videos and pictures, send free stickers, and create stories.
Download: Android App / iOS App
9. JusTalk (Fun video calling app)
This app presents simplicity at its perfect. Its a hassle-free simple User Interface, moreover it provides limited features, the app's efficiency, and some amazing features that have bagged its millions of downloads.
JustTalk, with the help of its prime focus on video chatting, lets loved ones connect across the globe. It is even often popular with young kids as it provides features while in a video call.
Download: Android App / iOS App
10. Viber (FREE, simple, secure video calling)
Ever since its genesis, this app has even displayed a remarkable improvement in a lot of new features. Apart from being free, Viber provides supportability for almost all the OS and also smartphone like Android, Apple, Windows Phone, and BlackBerry devices.
Viber is one of the best video calling apps with millions of people using it on a daily basis around the world.
Download: Android App / iOS App