Samsung is a South Korean multinational company founded by Lee Byung-Chul in 1938 as a trading company. But over a period of time, the company has established itself as a global television leader by introducing innovative technologies.
And today the company has successfully maintained the No. 1 position in TV sales for 15 consecutive years until last year. The company runs its operation on a philosophy to create superior products and contribute to a better global society. The USP of Samsung is its ethical values.
Samsung trains its employees and operates monitoring systems while practicing fair and transparent corporate management, that's what makes this company so trustworthy among the people.
Almost every year the company introduces its new range of televisions with various smart features and great functionalities and cater to different sections of the market.
So because of its huge popularity this time we have come up with top 9 Samsung televisions of different price ranges, screen sizes, types and specifications.
Best Samsung TV In India – 2022
Let's have a look at the list below:
1. SAMSUNG (32 inches) HD Ready LED Smart TV 2020 Edition
Key Features
● Display: 32 inches HD LED
● Operating System: Tizen
● Refresh Rate: 60 HZ
● Speaker Output: 20 W
● Color: Black
If you are looking for a budget-friendly yet quality TV with many smart functionalities, then the SAMSUNG UA32T4340AKXXL would be a really good option for you. This is a 32 inch HD TV that lets you enjoy movies and shows with great intensity.
It comes loaded with amazing features like PurColor, Ultra Clean View and HDR that delivers incredible visuals with deep black for life-like picture quality and gives you the best viewing experience without any distortion.
While with the contrast enhancer you can adjust the contrast and convert the images into more real. Moreover, this TV runs the Tizen OS which will grant you access to content from the top-rated streaming apps like Netflix, Disney+Hotstar, YouTube and many more.
Apart from this, you can also connect the compatible devices to watch your favorite content on the big screen using the screen mirroring feature.
In addition, this TV allows you to change this TV into a PC and work from the cloud, thanks to its personal computer mode.
Check Current Price at: Flipkart
2. Samsung (43 Inches) Wondertainment Series Full HD LED Smart TV
Key Features
● Display: 43 inch FHD (1080p)
● Operating System: Tizen
● Refresh Rate: 60 HZ
● Speaker Output: 20 W
● Color: Titan Gray
Samsung is one of the largest budget television manufacturers that offer great features for all categories of people. With an impressive set of features, the Samsung UA43TE50AAKXXL is a smart TV that will enhance your TV watching experience.
Talking about the performance, this 43 inch TV is armed with a Hyper Real graphics processor and has an ultra-clean view to ensuring that the entire screen will output quality visuals.
Also, this unit has a full HD resolution which means that the content you see will be lifelike and really well defined. With a refresh rate of 60 hertz, all the dynamic scenes will be properly captured without any blur.
The Samsung UA43TE50AAKXXL packs Netflix, Sony Liv, Prime Video, Apple TV, Zee5, Hotstar, Jio TV and Youtube which you can take advantage of with a simple click on the included remote control.
Besides this, you can control this TV through your speech due to the fact that the smart remote supports Bixby, Google Assistant and Alexa. So in terms of navigation and use you will be more than satisfied.
Check Current Price at: Amazon
3. SAMSUNG Q60RAK (49 inch) QLED Ultra HD (4K) Smart TV
Key Features
● Display: 49-inch QLED (4k)
● Operating System: Tizen
● Refresh Rate: 100 HZ
● Speaker Output: 20 W
● Color: Black
The SAMSUNG Q60RAK is a smart 49-inch QLED Ultra HD TV that combines an attractive design with a quality performance. From a design perspective, this TV features a modern eye-catching black finished construction with thin bezels around the screen that will fit perfectly in your living area.
Equipped with advanced software like Quantum processor and Quantum HDR 4X, it balances the screen's brightness and the television's sound output with your room and delivers an enhanced resolution to provide you an amazing visual experience.
While its innovative Quantum Dot technology along with AI Upscaling helps to enhance the images, reduces image noise and sharpens the edges so that you can enjoy your favorite content in 4K resolution.
Further, the SAMSUNG Q60RAK has an Ambient Mode that converts your simple black screen into a beautiful frame and gives it a refreshed look and matches your lifestyle too.
It also supports S Voice and Bixby, your personal virtual assistant. Overall the SAMSUNG Q60RAK is a must-have because it offers a great value for its cost.
Check Current Price at: Flipkart
4. Samsung (50 inches) Crystal 4K Pro Series Ultra HD Smart LED TV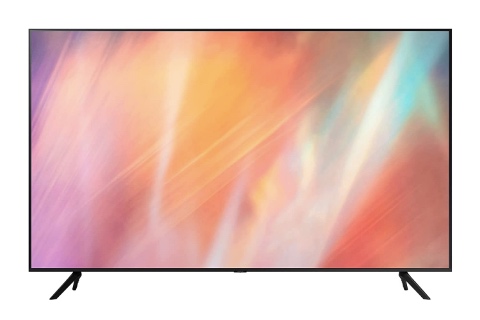 Key Features
● Display: 50 inches (4k) Pro UHD
● Operating System: Tizen
● Refresh Rate: 60 HZ
● HDR 10+ Panel
● Color: Black
On number 4 we have the Samsung UA50AUE70AKLXL which earned high marks this year for its excellent design as well as for delivering color and contrast performance.
To begin with, this Ultra HD Smart LED TV gives you a larger-than-life experience in terms of features. The Crystal 4K display with a billion true colors delivers detailed, best-in-class picture quality, miles away from any kind of dullness.
While the HDR increases the range of light levels offering crystal clear images even in the darkest scenes. Samsung has made sure that this TV adds to the aesthetic value of your room.
Its 3 sides bezel-less design ensures that the only thing it edges out is premium-ness and blends quite effortlessly with any kind of decor. Also, you can access your PC, Laptop, and mobile seamlessly on this tv.
This television will become your one-stop for all entertainment needs as you can easily connect your smart devices without any active internet connection and play your favorite content on the big screen in practically no time.
Check Current Price at: Amazon
5. Samsung (55 inches) Crystal 4K Pro Series Ultra HD Smart LED TV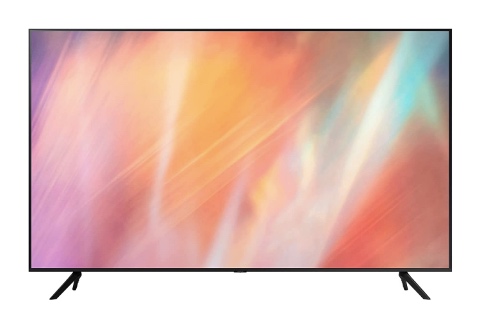 Key Features
● Display: 55-inch crystal (4k) Pro UHD
● Operating System: Tizen
● Refresh Rate: 60 HZ
● HDR 10+ Panel
● Color: Black
The Samsung UA55AUE70AKLXL is a smart television, designed with many innovative technologies making it a great long-term investment.
This 55-inch Ultra HD LED TV comes in a sleek eye-catching design and boasts a minimalistic style from every angle to complement your modern interior. Further, it is equipped with powerful 4K upscaling that offers lifelike color expressions, thanks to its sophisticated color mapping technology.
Now Samsung UA55AUE70AKLXL also comes with a Tap view application feature which allows you to mirror the movies or music from your mobile to TV with just a single tap and enjoy your favorite content.
When it comes to audio quality, this unit is combined with Q Symphony which allows TV and soundbar speakers to operate simultaneously and delivers better sound effects without muting TV speakers.
In addition, it has a Universal Guide feature with the help of which you can easily access your favorite content without opening an app. Samsung TV Plus is another useful feature that provides you free live streaming TV content with virtual channels.
Check Current Price at: Amazon
6. Samsung The Frame 2020 Series (55 inch) QLED Ultra HD (4K) Smart TV
Key Features
● Display: 55-inch QLED (4k) UHD
● Operating System: Tizen
● Refresh Rate: 120 HZ
● Speaker Output: 40 W
● Color: Black
As the name itself suggests, SAMSUNG The Frame is an elegant appliance that will complement your space as well as your style. With this excellent piece of art, you can showcase your favorite photos and art on this TV when it is switched off.
This unit is equipped with Samsung's Quantum Dot technology and the Dual LED technology that delivers colors with full 100% color volume and makes the visuals crystal clear and more detailed.
The Samsung QA55LS03TAKXXL can detect ambient light with the use of its brightness sensor and automatically balances the screen's brightness and color tone for natural elimination.
When you are nearby the motion sensor will sense your presence and turn the TV display into your artwork and when you leave it turns off to save energy.
This TV also features a multi-view mode that lets you split the screen and watch content from the TV and your smartphone simultaneously.
All you have to do is connect your phone to this TV and customize the video size and the audio settings.
Check Current Price at: Flipkart
7. Samsung (55 inches) 4K Ultra HD Smart QLED TV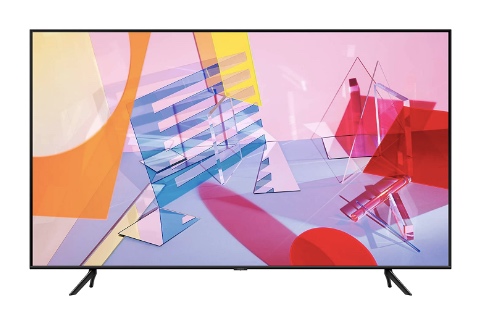 Key Features
● Display: 55-inch QLED (4k) UHD
● Operating System: Tizen
● Graphic: Quantum processor
● Speaker Output: 20 W
● Color: Black
With an innovative range of technologies and smart features like Quantum Dot technology, Quantum HDR, HDR10+, Quantum Processor Lite and Tap View, the Samsung QA55Q60TAKXXL will give you the theatre-like experience at home.
With the in-built AirPlay 2, you can stream or share the content from your smart devices to the TV effortlessly and enjoy the content as per your mood. You can even talk to the screen, as it supports Bixby, Amazon Alexa and Google assistant which makes your life easier.
You can change channels, adjust the volume, control playback and much more with just your voice. No more hunting through menus, as now you can get straight to your favorite shows with dedicated buttons right on the remote control, it's fast and easy as well.
Also, there are curated lists of content from broadcast and streaming channels so you don't have to waste unnecessary time on searching.
This 55 inch TV also comes with an ambient mode, which means the TV itself blends into your decor elegantly when you project the photos onto the TV screen.
Check Current Price at: Amazon
8. Samsung (65 Inches) Wondertainment Series Ultra HD LED Smart TV
Key Features
● Display: 65 inches UHD LED
● Operating System: Tizen
● Graphic: Mtk Mali 400
● Refresh Rate: 60 Hz
● Color: Titan Gray
The Samsung UA65TUE60AKXXL comes in a sleek, stylish design and is a great addition to your living space. This 65-inch Ultra HD TV is packed with some amazing features like ambient mode, game enhancer and personal computer mode which are all there to personalize your daily dosage of entertainment.
Its crystal 4K UHD display along with crystal processor 4K drastically improves the quality, color, contrast of any image and uncovers even the hidden details. With the 20 watts stereo speaker and Dolby Digital Plus, you can turn your TV into a virtual music system.
This unit also lets you secure all your important data wirelessly, thanks to its Home Cloud feature. This appliance has the ability to connect multiple devices as it has 3 HDMI ports, 2 USB ports, Wi-Fi, HDMI, USB that takes complete care of your entertainment needs.
So for all the Bollywood fans out there who are fond of the vibrant colors and the heart-thumping sound effect, you can experience your favorite movies just like you do in the theatres sitting right on your couch.
Check Current Price at: Amazon
9. Samsung (70 inches) 4K Ultra HD Smart LED TV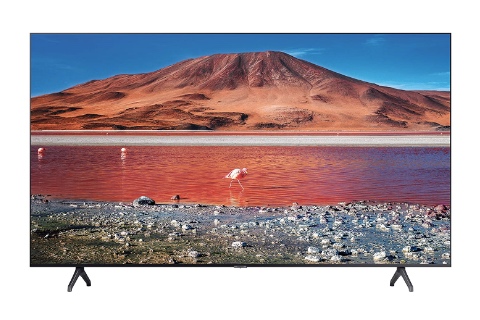 Key Features
● Display: 70 inches (4k) UHD
● Operating System: Tizen
● Graphic: Crystal processor 4K
● Refresh Rate: 60 Hz
● Weight: 24 Kg
With sleek, boundless design and minimalistic style, the Samsung UA70TU7200KXXL is one of the most premium 75 inches TV that gives you the best cinematic experience ever.
Speaking of its performance, this unit comes with a powerful crystal processor 4K, crystal display and supports HDR formats to offer 4 times more pixels, optimized color expression, high contrast ratio, crisp images and immersive visuals to make you feel like you are really in the scene.
To make it more convenient, this unit offers a clean cable solution by hiding them away right in the stand which reduces the clutter and gives Tv a beautiful look. This TV comes with a 40 watts powerful stereo speaker along with Dolby Digital Plus to deliver great amplification of sound for you.
Another very interesting feature is the Live Cast that lets you broadcast or share your experiences from anywhere on your TV. Similarly using the screen mirroring feature you can play music and videos from your smartphone and maximize your entertainment level.
For hardcore gamers, there is a game enhancer that optimizes the screen and gives you a smooth lag-free gaming experience.
Check Current Price at: Amazon
Conclusion:
No doubt Samsung is one of the most popular and reliable brands across the world. And we always believe that we should come up with products, gadgets or appliances that are worth trusting.
That's the reason we prepared the list of the 9 Best Samsung TVs. All the models we have mentioned above are the latest lineup of Samsung with incremental changes and upgrades in its features so that they cater to the needs of customers to the best possible extent.
Another thing that makes this brand more reliable is its versatility and after-sales service. So we hope you find this article helpful and informative. If you still have any kind of confusion or want to share your thoughts you are most welcome.
Also Read:
10 Best Television Brands In India
7 Best Mi TV In India
TechUnfolded is supported by its readers and when you buy through links on our site, we may earn an affiliate commission. read more