If you are looking for an air conditioner for this hot summer but at the same time, you hesitate to buy it because of its high price then you can go for the portable air conditioners which acts as an alternative air conditioning system and is much cheaper than running a central unit.
So in the article below, we are going to discuss some of the best portable air conditioners and their pros and cons so that you can decide which one is the right option for you.
As time changes the taste or demands of the people also changes which leads to the creation of new things, and portable ACs are one of the examples of it.
Today you can find the various models of these portable ACs which are much smaller and hence ideal for cooling single rooms. With the help of these ACs, you can enjoy the cool air without sacrificing the natural light, views and other window benefits.
The best thing about these portable air conditioners is that you don't need any help or any kind of tools to install them, all you have to do is plug them in to beat the heat. And since they are portable and come with wheels which lets you move them in all the different rooms of your house without any hassle.
Now you get some basic idea about the portable air conditioner and it's functions so let's move on to the list of top 5 portable AC along with their description and specifications:
Best Portable Air Conditioners In India
Now, let's check out the list.
1. Blue Star 1 Ton AC
Features:
● 1-ton capacity Suitable for ( Upto 90 sq ft ) rooms
● Anti-freeze thermostat
● Power Input (Watt): 1404
● Eco Friendly | No Ozone depletion.
● White
When it comes to air conditioners Blue Star is the country's second-largest homegrown player that specializes in a wide variety of products in the air conditioning and commercial refrigeration industry.
The Blue Star PC12DB is a unique dynamic drive design that provides superior cooling performance. This 1-ton capacity AC delivers 1350 watts of cooling power and dehumidifies a maximum of 90 sq ft space within a short time to ensure a comfortable environment at your home.
The machine comes with convenient castor wheels so that you can move it easily. It has a new and innovative fuzzy logic feature that gives you uninterrupted sleep at night. While it's auto mode make sure that you enjoy a comfortable ambiance even in high humidity or during the rainy weather.
In addition, it comes with a self-diagnosis system, so if there are any kind of faults it will display an error code and protect the AC from damage. The best thing about this machine is that it is environmentally friendly.
Since it uses the latest refrigerant R410A hence it has better lubrication ability and doesn't lead to ozone depletion.
Check Current Price at: Amazon
2. Midea 1 Ton Portable AC
Features:
● 1-ton capacity Suitable for ( Upto 90 sq ft ) rooms
● Sleep Mode: Auto-adjusts the temperature
● 3650 W cooling capacity
● Copper: Energy efficient
● White
The Midea MPA12PDR49C0 is a modern super portable air conditioner that ensures you always have a comfortable environment every time. With a total cooling capacity of 3650 watt and highly efficient rotary compressor it can cover up to 90sq ft area of space.
It features auto-drain technology that enhances its cooling efficiency by preventing leakage or seepage that might occur due to an overfilled tank. This AC is equipped with an infinicool compressor jacket which works silently and provides you peaceful sleep overnight.
Additionally, the Midea MPA12PDR49C0 comes with a memory backup function that automatically restores its previous settings after every power cut.
When it comes to build quality or reliability, the company has combined the features like an anti-freeze thermostat, a Self-diagnostic system and hydrophilic gold evaporator fins that not only enhance the performance of the appliance but also helps to protect it from any kind of damage.
Overall with its compact structure and amazing cooling functions this energy-efficient air conditioner can be an ideal option for you.
Check Current Price at: Flipkart
3. Croma 1.5 Ton Portable AC
Features:
● 1-ton capacity Suitable for (Upto 90 sq ft) rooms
● NA Star BEE Rating 2020
● Sleep Mode: Auto-adjusts the temperature
● 5250 W cooling capacity
● White
Launched in 2006, Croma is one of the reputed Indian companies that catered to all multi-brand digital gadgets and home electronic needs in India. With its wide range of products and tech-savvy staff, the company has become a synonym for all electronics needs.
The Croma CRAC1201 is a 1.5-ton portable AC that supplies cool air to a 170 sq. ft. large area. This floor standing air solution offers a 3-in-1 combination of cooling, dehumidifying and a fan to ensure you get the most comfortable ambiance inside the room.
In terms of design, it has a very compact, stylish structure and user-friendly interface which is not only easy to operate and maintain but also easy to install. When it comes to performance, the company uses a copper condenser with blue evaporator and condenser fins for faster heat transfer and effective cooling.
Moreover, it comes with an eco-friendly CFC-free green R-410A refrigerant that provides a cooling system without contributing to ozone layer depletion.
It also comes with many versatile features like no-drip technology, self-diagnosis system, on-off Indicator, mesh filter, 4 different modes- dry mode, auto mode, sleep mode and cool mode which makes this machine a worthy purchase.
Check Current Price at: Flipkart
4. MarQ By Flipkart 1 Ton Portable AC
Features:
● 1-ton capacity Suitable for ( Upto 90 sq ft ) rooms
● Lower electricity costs
● Energy efficient
● 3500 W cooling capacity
● White
Next on our list is a powerful conditioner from MarQ By Flipkart which comes loaded with many amazing features. It boasts a sleek design and has in-built caster wheels to let it move effortlessly from one room to the other.
This air conditioner consumes 1200 watt energy to cool rooms up to 70 sq. ft. and serves 4 levels of cooling to suit your needs so that you can always stay cool and comfortable. With its digital display panel and remote control, you can easily set a timer or adjust the temperature for a more personalized experience.
This machine is combined with a sleep mode that keeps you cozy and allows you to enjoy a good sleep by creating a comfortable temperature inside the room. While its dry mode helps to remove moisture from the air in a fraction of minutes.
This unit has an environment-friendly R410A refrigerant and offers easy installation for a convenient user experience. Apart from this, it is an energy-efficient machine that saves your power bills, thanks to its rotary compressor that gives you maximum cooling while consuming less power.
In addition, you get extra support of 5 years on the compressor and a 1-year warranty on the overall product.
Check Current Price at: Flipkart
5. Lloyd 1 Ton Portable AC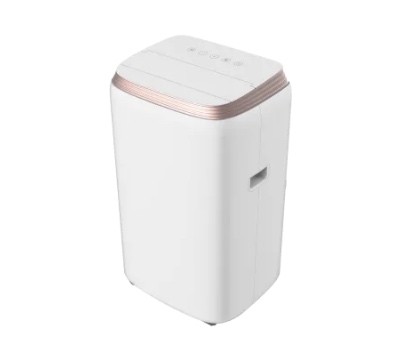 Features:
● 1-ton portable AC
● Approximate coverage area 120 Sq. Ft
● Energy efficient
● 3500 W cooling capacity
● White
If you are looking for a portable air conditioner which can cover a medium sized room then, you can go for Lloyd LP12B01TP that delivers fast effective cooling for spaces up to 120 sq. ft. and create a relaxing environment.
You can also switch between different modes and adjust the temperature using the handy remote control to achieve a comfortable ambiance.
In terms of built quality, this air conditioner is equipped with a bluefin coil and hydrophilic aluminum fins that help to keep the condenser safe from rust and increases the life of the condenser coil.
If we talk about its performance aspect, this advanced cooling solution comes with a highly efficient rotary compressor that offers airflow of 595 m3/hour. While its air filter ensures healthy air for your family.
Further, it also has an auto-start mode which means after a power failure it automatically restarts when power is restored. Additionally, the Lloyd LP12B01TP also offers a 2-way swing feature that circulates the airflow in all directions to make sure that the cool air reaches every corner of the room faster.
Its easy-rolling caster wheels allow you to conveniently move the unit from one room to another room while providing cool air everywhere.
Check Current Price at: Croma
Conclusion:
You have just gone through the above list in which we have shared a lot of information about the portable air conditioners along with their detailed features so that you keep all these things in mind before buying a portable air conditioner for your home.
We hope that you find this article helpful and informative and we were able to assist you in your selection process. From the products listed here, you can avail yourself of the best as per your need and money.
If you still have any queries or doubts regarding the above topic or just want to share your feedback you can leave your comments below and we will try our best to answer your questions.
Also Read:
Best 1.5 Ton Split AC In India
Best Ceiling Fans In India
TechUnfolded is supported by its readers and when you buy through links on our site, we may earn an affiliate commission. read more