In today's modern world of technology, OLED TVs have changed the meaning of entertainment by enhancing the watching experience of movie lovers.
No doubt OLEDs are much better than LCDs or LEDs as they offer some of the most impressive picture quality with perfect blacks, superior viewing angles and infinite contrast ratios.
Apart from the best viewing experience they also deliver the great sound output and many other amazing features which makes these OLEDs more demanding. When it comes to price, yes the OLEDs are on the higher side but it's totally worth it to spend on it because it gives you a theatre-like feel.
So if you are a movie lover but at the same time you don't like to go to cinema halls, then you can invest in the OLEDs and can have the feel of theatre in your home itself.
Best OLED TV In India – 2022
Now let's have a look at these OLED TVs.
1. Sony Bravia A8F (55 inch) Ultra HD (4K) OLED KD-55A8F
Key Features:
● Resolution: 55-inch ultra HD (4k)
● Refresh rate: 100 Hertz
● OS: Android
● Sound output: 50 watts
● Weight: 22.2 kg
The Sony Bravia A8F offers unparalleled clarity with its 4k resolution and noise-reducing technology. This sleek TV comes with a clean and minimalistic design that will enhance the interior of your home.
It has a high dynamic range with Dolby Vision for a true cinematic experience in the comfort of your own home. This TV's triluminos display lets you enjoy a broad spectrum of red, green and blue for a rich overall picture.
When it comes to sound quality, Sony Bravia A8F's acoustic surface technology delivers amazingly detailed and crystal clear sound. There's also a built-in Google assistant to make performing a wide range of tasks easier than ever.
The HDR X1 processor of this TV detects the static image and adjusts automatically depending on the content to prevent image retention that is simply incredible.
Further, it is incorporated with X-motion clarity technology which keeps the action smooth without any blur. So, with all these excellent features explore the new world of entertainment with the Sony Bravia A8F.
Check the latest price: Flipkart
2. LG (55 inch) Ultra HD (4K) OLED Smart TV 55B8PTA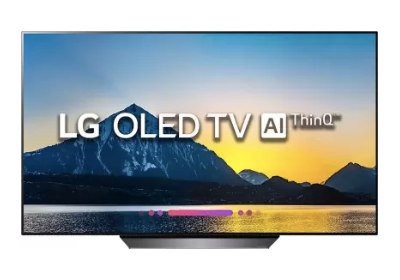 Key Features:
● Resolution: 55-inch ultra HD (4k)
● Refresh rate: 120 Hertz
● OS: Web OS
● Sound output: 40 watts
● Weight: 17.8 kg
This LG OLED 55B8PT comes with a 3840×2160 pixel resolution that gives you a beautifully vibrant picture. It is equipped with an Alpha7 intelligent processor which means you can rely on this TV for smooth and flawless functionality on a consistent basis.
LG's AI ThinQ built-in Google assistant allows you to perform a wide range of tasks without using your hands. You can do everything from finding out the weather to modifying the volume with simple voice commands.
It uses the LG OLED display so that you can expect a bright and beautiful picture. While its 4K cinema HDR with Dolby vision offers smooth-flowing video for a lifelike picture that will bring your favorite content to life right in front of your eyes.
This 55 inch TV has an extremely slim bezels design that provides you with the most enjoyable viewing experience possible.
Additionally, it also comes with gallery mode which allows you to explore various activities like listening to music, viewing photos and many more.
Check the latest price: Flipkart
3. LG (65 inches) Ultra HD (4K) OLED Smart TV (OLED65GXPTA)
Key Features:
● Resolution: 65-inch ultra HD (4k)
● Refresh rate: 60 Hertz
● OS: Web OS
● Sound output: 60 watts
● Weight: 29.8 kg
This 65 inch LG TV is an incredible piece of technology that makes an excellent addition to any home theatre setup. It has millions of self-lighting pixels that bring colors to life and create great picture quality.
This TV uses an impressive 4K processor that is powered by artificial intelligence technology. It is incorporated with AI sound pro-technology which automatically adjusts itself to provide a better listening experience.
It comes with in-built Wi-Fi and allows for voice commands through LG AI ThinQ which makes it easier than ever.
The LG OLED65B PTA has a 60Hz screen that also supports gaming features like G-sync and is ideal for anyone who is looking to raise their gameplay to the next level. Further, this TV comes with filmmaker mode which delivers the theatre-like experience.
In terms of connectivity options, it has four HDMI ports, three USB ports and a headphone jack which makes this a great package.
Check the latest price: Flipkart
4. Sony Bravia (65 inches) 4K Ultra HD Android Smart OLED TV KD-65A8G
Key Features:
● Resolution: 65-inch ultra HD (4k)
● Refresh rate: 50 Hertz
● OS: Android
● Sound output: 40 watts
● Weight: 20.3 kg
If you want the best possible viewing experience, then the Sony Bravia KD-65A8G is a great option to consider. This 65 inch TV comes with smart TV capabilities and 4k resolution.
It offers the best package in terms of design, build quality, performance and sound system. In addition to that, it ls the ability to fit in your smart home ecosystem.
The Sony Bravia KD-65A8G also supports Dolby vision with a high dynamic range that delivers brilliant highlights and detailed pictures. With its triluminos display, you can enjoy your favorite content with more realistic colors.
Sound quality is also an important part of any TV as it can enhance your watching experience, that's why it is combined with the Acoustic Surface Audio technology which creates deep and powerful bass.
Apart from this, Sony Bravia KD-65A8G is loaded with many other features such as Google play from where you can download various apps and games, a built-in Chromecast that lets you connect to other devices and many more features.
Check the latest price: Amazon
5. LG (65 inches) 4K Ultra HD Smart OLED TV 65CXPTA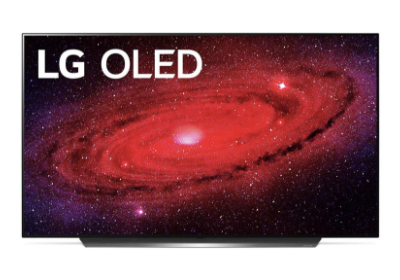 Key Features:
● Resolution: 65-inch ultra HD (4k)
● Refresh rate: 120 Hertz
● OS: Web OS
● Sound output: 40 watts
● Weight: 24 kg
This is another 65 inches OLED TV that delivers some excellent features and a flawless viewing experience with beautiful colors, tons of details, great contrast and so much more. It's one of the best OLED TVs, especially for console gaming.
It has very slim bezels around the screen that doesn't distract you at all from the image. When it comes to internal specs, the LG 65CXPTA runs on a9 Gen AI processor that delivers perfect amounts of contrast and saturation.
For a smooth gaming experience, it is equipped with an LG graphic processor and self-lit pixels with a speedy response time. This smart TV is featured with a home dashboard that lets you control or monitor your home devices.
AI picture pro, Auto Genre selection, LG routines, AI recommendation are some of the smart features included in this TV. With all these great features, it gives you the best value for your money.
Check the latest price: Amazon
Conclusion:
You just went through the list of the best OLED TVs in India. If you are a person for whom the term 'OLED' is something new then now you must have got some knowledge or idea about it and the kind of features you get in these OLED TVs.
All these 5 OLED TVs belong to the most trusted and reputed brands that offer the best features with stylish designs. And as we mentioned above, these OLEDs are very expensive so you must invest after proper analysis so that your hard-earned money should not be wasted.
We hope this article helps you in your selection process and you get the best one for your home. If you still have any queries or doubts regarding OLED TV selection, you can leave comments below and we will try to answer them.
Also Read:
Best QLED TV In India
Best Smart 4K LED TV Under 1 Lakh
TechUnfolded is supported by its readers and when you buy through links on our site, we may earn an affiliate commission. read more