When it comes to laptops, we feel they are very precious to us, not only because they are expensive but also because we used to store a lot of sensitive data, important documents, files or personal information in it.
Hence it requires extra protection and safety while traveling or carrying it. For this purpose, there are a variety of laptop backpacks available in the market, which acts as the most convenient way to protect your laptop as well as to keep your other belongings organized.
Hence this article is all about the latest, stylish yet good quality laptop backpacks then you can buy in an affordable price range. In this article, we have mentioned the list of best anti-theft laptop backpacks along with their detailed features.
We have prepared the list on the basis of protection, durability, comfort and other organizational features.
List Of Top 10 Best Laptop Bags In India
TechUnfolded is supported by its readers and when you buy through links on our site, we may earn an affiliate commission. read more
1. Gods Ghost 22 Litre Anti-Theft 15.6 inch Laptop Backpack
Our first choice is Gods Ghost 22 Litre Anti-Theft backpack which comes with loads of convenient features. It has a padded and removable 15.6-inch laptop compartment where your laptop can fit easily.
It has a thick and tough polyester exterior for tear and water-resistant protection for everyday use. In addition to that, it has breathable mesh weave back padding for comfort and safety including supportive shoulder straps and side pockets for drink bottles.
Its minimal design improves its carrying capacity so that you can organize things easily. It includes separate slots or compartments for hard drives, tablets, phones, chargers, pens, etc.
Also, it features a crush-proof safe zone compartment for storing your sunglasses. Overall it's a simple and classy laptop backpack that is available in four different colors.
Check Current Price at: Amazon
2. GODS Marvel Avengers Exclusive Ghost Anti-Theft 15.6 Inch Laptop Backpack
With a durable design and great features, the GODS Marvel Avengers is an ultra-rugged and extremely comfortable laptop backpack. Its main compartment has a dedicated slot for your laptop up to 15.6 inches.
Its padded back makes this bag easy to carry and is equipped with a weather-resistant exterior and padded interior that offers great organization. Its multi-compartment design provides you with all the necessary space for housing essential things including keys, wallet, cards, etc.
And there is even a separate handy compartment to store the important documents, hard disk and cables without any hassle. Apart from this, it has adjustable and heavily padded shoulder straps that provide extra comfort in case of long traveling.
Hence, unlike other laptop backpacks, the GODS Marvel Avengers backpack will give you practicality and affordability.
Check Current Price at: Amazon
3. Okami Wolf GoPack Anti-Theft Laptop Backpack
If you are a regular commuter who's looking for a backpack with a high level of versatility then is gonna be a great choice for you. With the amazing ratings and reviews, this backpack is priced at around Rs. 2500.
Inside it has enough room to hold up to a 15.6-inch laptop. From a design perspective, it has a professional-looking exterior with a matte black finish.
In terms of build quality, the Okami Wolf GoPack is made of durable and water-resistant polyester fabric and is equipped with an integrated metal key hook and thick padding which makes it strong yet extremely comfortable to travel with.
Further, it comes with anti-theft hidden pockets to secure your valuable small items like passport, wallet and more, so you always get a sense of security while traveling with a laptop. Also, there's an okamiTech Gen-3 USB charging system for a seamless charging experience.
Check Current Price at: Amazon
4. Fur Jaden Anti Theft 15.6 Inch Laptop Backpack
Well equipped for various types of work essentials the Fur Jaden anti-theft laptop backpack is designed with multiple storage pockets and organizers. Available in three elegant color options and sophisticated yet stylish patterns this is a perfect choice for office use as well as for college students.
One of the most interesting features of this backpack is that it comes with an in-built charging dock that lets you charge your phone even while traveling without any hassle of holding the power bank.
Apart from the main laptop compartment, this highly aesthetic backpack is enhanced with 7 small inner compartments to store your other essential items like headphones, chargers, phones, sunglasses, etc with great ease.
In addition, this multipurpose backpack is supported by 6 months of warranty against any defects. So, with a ton of easily accessible pockets and user-friendly features, this is a perfect backpack for anyone.
Check Current Price at: Amazon
5. Wildcraft 44 Ltrs Wolf_Blk Casual Backpack
Wildcraft is one of the most trusted Indian brands which is known for their premium quality clothing, footwear and backpacks, hiking equipment and other related items.
Therefore, people who care more about security while traveling with their expensive laptops and other valuable items should take a look at this Wildcraft Wolf Blk casual backpack because it has tons to offer.
When it comes to build quality, this backpack is made from superior quality weather-resistant robust nylon which ensures its durability.
This 44L backpack has a spacious laptop compartment that can hold a laptop up to 17 inches and is combined with multiple compartments with zippers to make it a theft-proof bag, hence no robber or thief can locate it.
So you can carry this backpack for a wide range of indoor & outdoor activities like traveling, vacationing, camping, shopping, school going, etc.
Check Current Price at: Amazon
6. Mi Business Casual 21L Laptop Backpack
With this stylish Mi Business 21L laptop backpack, you can keep your laptop and other valuable items safe & secure and can make your traveling experience hassle-free.
In terms of look as well as performance, this backpack is a perfect combination of both fashion and functionality that provides you great features with an ergonomic design.
As an extra benefit, the backside of the backpack features a luggage trolley loop so that you can place it on the handle of the trolley suitcase and can simultaneously carry both a suitcase and the backpack.
Apart from this, the multi-purpose product comes with invisible zipper pockets that allow you to store your valuable items like TWS/ earbuds, passport, phone, etc. in a sorted manner and also ensures its security.
Also, the Mi Business laptop backpack is combined with breathable padding and cushioning for extra comfort that helps you to carry it even when completely loaded.
Check Current Price at: Amazon
7. Wesley Milestone 15.6 inch 25 L Casual Backpack
Next on our list is the Wesley Milestone casual laptop backpack which is an ideal option to carry a laptop with peace of mind. It's a unisex travel backpack that can be used by both men and women.
It can easily carry a laptop up to 15.6 inches and the entire bag is made of durable snow yarn polyester fabric which is dirt and water-resistant. For the ultimate comfort, it has padded shoulder straps and cushioned back support which gives you maximum support.
While its top snap handle will give you an extra carrying option. The Wesley Milestone laptop backpack has a versatile storage facility with a spacious main compartment and a zippered pocket in the front to keep smaller objects like pens, thin notebooks, etc.
It also has a sleeve on the side so you can store a slim water bottle. To conclude, this is an elegant and spacious laptop backpack that is available in 3 classy color options.
Check Current Price at: Amazon
8. Killer Louis 38L Large Laptop Backpack
This is another good quality 38L laptop backpack by the famous brand Killer Louis. It's a handsomely crafted and friendly laptop backpack that ensures portability and protection. Material wise, this is made of durable polyester fabric which doesn't wear down quickly, allowing you to use it on a daily basis.
With 3 large compartments, 1 easy-access front pocket & 2 mesh side pockets it offers maximum security for your valuable items. It comes with a huge laptop compartment where you can fit up to a 15.6 inches laptop without any hassle.
This trendy, sleek and lightweight backpack comes with padded handles and shoulder straps for convenient carry and equipped with everything that you need during your daily commute.
The product is available in three different colors- black, blue and grey so you have the option to choose according to your preference.
Check Current Price at: Amazon
9. Lenovo Casual B210 15.6-inch Laptop Backpack
One backpack is enough for your loads of tech stuff if you have the Lenovo laptop backpack with you. It's a supremely organized backpack that is designed for your daily commute along with a laptop.
It is made of snow yarn polyester fabric and its laptop sleeve can hold laptops up to 15.6 inches. It's combined with 6 big, nice and impressive compartments that help you to organize your laptop and other essentials easily along with security.
With the padded internal chambers, you can keep your books and important documents in an organized and secured manner. Also, there is an additional side compartment for a water bottle.
Thanks to its padded shoulder straps as you can carry this backpack for a long time with optimum comfort. The backpack itself is very light in weight and weighs only 453g allowing you to carry it with great ease throughout the day.
Check Current Price at: Amazon
10. TOMMY HILFIGER – 24.5 L Laptop Backpack HORIZON PLUS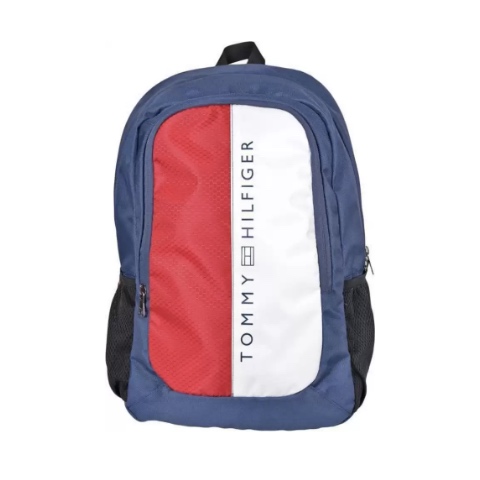 This laptop backpack by the popular American brand TOMMY HILFIGER is a highly functional anti-theft backpack that is built to protect your belongings from getting stolen.
The product offers a 24.5L storage space including a laptop sleeve where you can feed up to 14 inches laptop. Made from a polyester fabric this backpack is built durable.
The product comes with a fully padded cushion zone, allowing you to keep your iPad, tablet or laptop without being scratched. While its adjustable and soft straps are there for better stability and carry comfort.
If we talk about its design, the backpack looks very stylish in a color combination of blue, white and red, while the brand name on the front adds to its beauty. Overall, it's a budget-friendly good quality laptop backpack that is suitable for different outdoor activities like traveling, camping, etc.
Check Current Price at: Flipkart
Conclusion:
After going through the article you must have understood how important is laptop backpack and how much convenience it provides us on the go. They are user-friendly and come equipped with many features which makes them much easier to carry as compared to normal heavy bags.
The laptop backpack not only protects your laptop and other valuable items from being stolen but also shields the device from dirt, dust, hot weather and rain which ultimately increases the lifespan of your laptop.
Thus, it is very important to buy a good quality laptop backpack in order to protect your laptop, iPad or tablet from scratches or any other type of damages. Also, they are easy. Hope you find this article informative and helpful.
If you still have any doubt or confusion regarding the laptop bags you can leave your questions in the comment section and we will try our best to answer your queries.
Related Posts: